---
---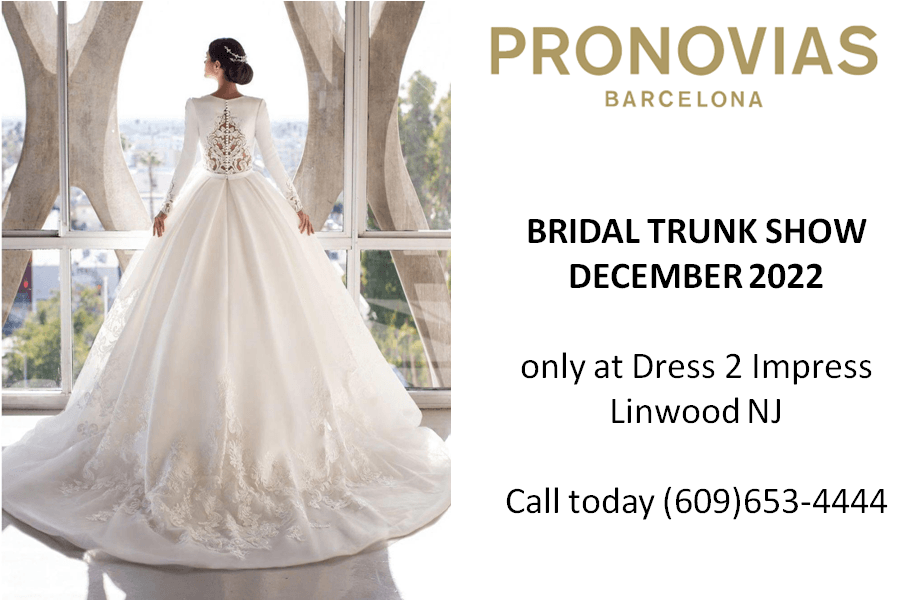 ---
It's the most wonderful time of the year and the best time of the year to attend a Pronovias Trunk Show. Dress 2 Impress is proud to offer brides a trunk show this December featuring our gorgeous inventory of beautifully designed Pronovias wedding gowns. Brides can finally purchase that much-desired Pronovias wedding dress with bonuses only offered during a trunk show.
---
Here are four reasons why our Pronovias Trunk Show is so exciting:
---
1. Brides receive 10% off the special order of their Pronovias gown. Our brides can leave our boutique feeling relieved that they not only discovered their dream wedding dress but also ordered it at a great price. Every little bit counts when budgeting for a wedding day, so discounts go a long way. 

2. Brides receive 20% off all in-stock Pronovias wedding dresses. This percentage off translates to a substantial amount of money that will give brides more to work with for their alterations, veil, jewelry, and hair accessories. Brides also get to take their dream wedding dress home the day they purchase it—a win-win situation for all brides. 

3. Brides will have a private bridal appointment. This type of appointment allows brides to share their wedding dress shopping experience with only those individuals they want there. Privacy makes brides feel extra special and super comfortable being themselves, creating the perfect atmosphere to say yes to the dress. 

4. Brides who "say yes to the dress" will receive an extra special end-of-the-year celebration. At Dress 2 Impress, we love celebrating our brides' special moments of discovering their dream wedding dresses. During our Pronovias Trunk Show, we will ramp up the celebration with even more goodies for the bride and their guests. We would say more, but we don't want to spoil the surprise.
---
At Dress 2 Impress, we pride ourselves in ensuring every bride looks and feels amazing on her wedding day. It's our passion. If you find our tips helpful and would like to make an appointment to attend our Pronovias Trunk Show this December 2022, click on the link.