Body Measurements
Size Chart
---
Our tips on how to properly measure and find your formal dress size

It is recommended to have someone take your measurements; ideally, a professional tailor or seamstress should assist you in taking measurements of your bust, waist, and hips. Proper undergarments should be worn to ensure the best fit in your formal gown. It is best to use a soft, flexible measuring tape; in place of one, you could use a string and then a ruler or a metal tape measure. All size charts are designer specific. Those size charts apply to the styles in that particular manufacturer's lineup, and the fit could vary based on fabric and style. The measurements listed in the size charts are body (NOT dress) measurements. Most customers need some level of alterations for their formal gown. A local tailor or seamstress can help you customize the fit to your preference. If you are between sizes, we recommend you go up a size and alter the dress for the perfect fit. Letting a dress out is NOT a typical practice since there tends to be not enough fabric in the seams to allow for it. It's imperative to keep the measuring tape snug yet comfortable to your body (not too tight or too loose) to record the most accurate measurements.

Now you are ready to take the following three measurements:

• Bust – This is NOT your bra size. Measure over the fullest part of your bust. While measuring, your arms should be at your side and relaxed. 

• Waist – Measure around the narrowest part of your stomach, known as the natural waist. 

• Hips – Measure around the fullest part of your hips, ensuring you wrap around the buttocks and that the measuring tape is flat, not twisted.

---
---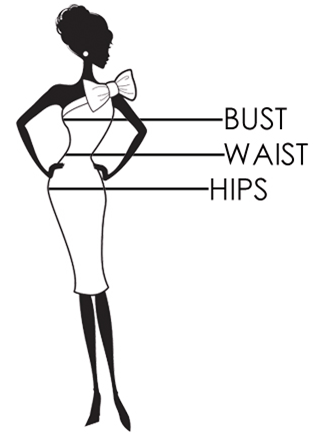 ---
If you still need help determining the size of your bridal gown, prom dress or any formal gown, related to an order on our website dress2impress.com, please to reach out us and we will be happy to assist.
---
Contact Us