Selecting a wedding gown is daunting for many brides, and with so many wedding dress styles on the market, some brides have become confused and indecisive. A professional bridal stylist can put a bride at ease and simplify the decision-making process for a bride with their expertise in the wedding fashion industry. I like to say that a professional bridal stylist is the secret sauce to a successful wedding dress shopping experience.
---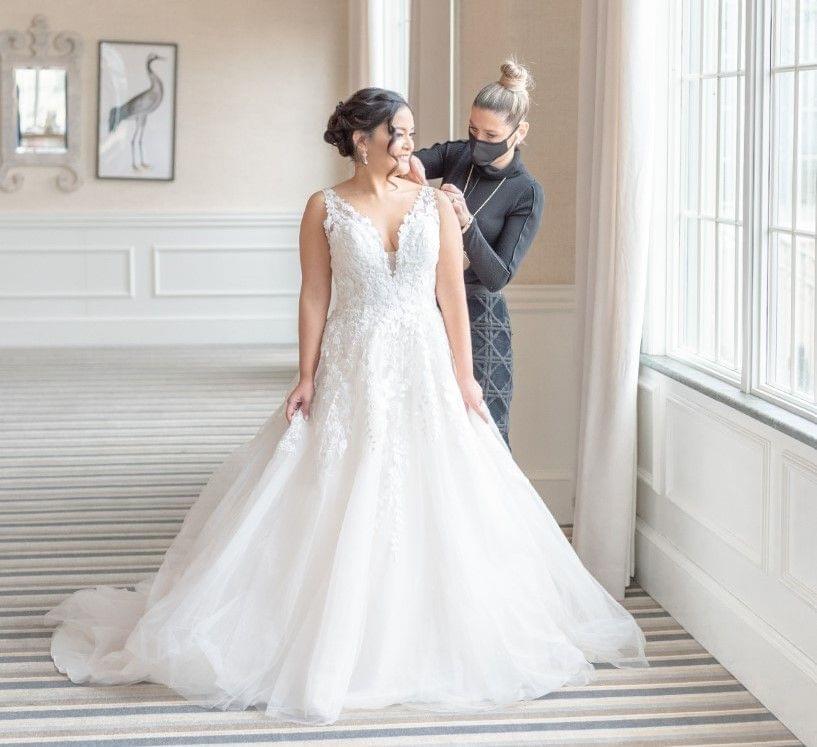 ---
Here are four benefits of working with a professional bridal stylist
---
Perfect Fit
A bridal stylist understands how fashion works with each body type. Wearing the ideal silhouette can camouflage what you don't like and accentuate what you do like about your body. A professional bridal stylist knows how to achieve the perfect fit to make a bride feel and look fabulous in a wedding gown.
Customizations
A bridal stylist knows their designer's styles and customization options. Creating a bride's perfect wedding day look sometimes requires some fashion adjustments. A professional bridal stylist knows how to use customization to give the bride a personalized wedding dress.
Accessorizing Options
A bridal stylist is skilled in accessorizing and finishing each look. Selecting the ideal wedding gown is just the first phase of styling a bride for her special day. A professional bridal stylist can offer beautiful tips on veils, hairstyles, jewelry, makeup, and even shoes to accessorize a bride's dream wedding dress.
Luxury Experience
A bridal stylist offers a high level of customer experience. Let's face it there are many bridal shops where brides can purchase their wedding gowns, but not all bridal shops offer exceptional service. A bridal shop with friendly and professional bridal stylists will always give a bride quality service and a memorable experience that she will cherish for a lifetime.
At Dress 2 Impress, we pride ourselves in ensuring every bride looks and feels amazing on her wedding day. It's our passion. If you find these tips helpful and want to try on our wedding gowns, veils, and bridal accessories, we would love to meet you and help you discover your dream wedding day look. Click on the link to schedule an appointment with one of our friendly and professional Bridal Stylists.