Every bride wants to look stunning on her wedding day.
Picking a wedding dress is an exciting experience
. But everyone will agree that shopping for a wedding dress can be an overwhelming process especially if you are on a
limited budget
.
You just need to consider following several wedding dress shopping tips we will give you in this article.
Top tips for finding a wedding dress on a budget
Set a budget limit
When you start searching for a wedding dress, you will see numerous designs of beautiful wedding dresses available on the market. The options are so many and if you don't know exactly what you are searching for, then you are likely to get confused about your choice.

It's very easy to get carried away by looking at the variety of expensive wedding dresses available on the market. But, if you are shopping on a tight budget, it's important to determine your wedding budget and decide on a specific amount you are willing to spend.  

Your budget will dictate you what type of wedding dresses you can choose from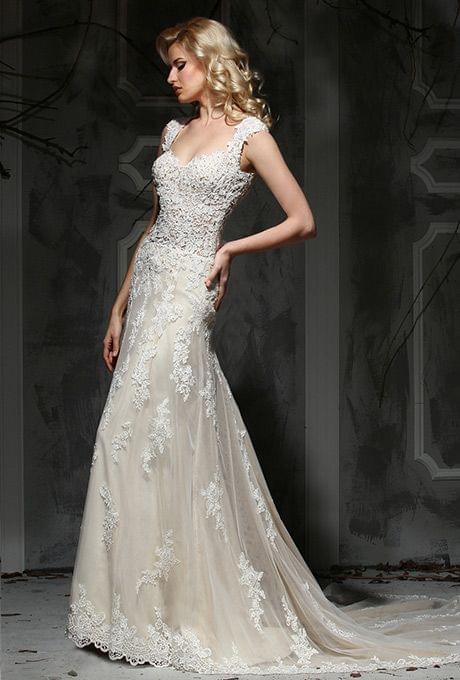 Knowing what you are searching for will help you narrow down your possible buying options for a dress design. This will make your wedding dress shopping process a lot easier.
Start shopping in advance
The process of picking a wedding dress and altering it shouldn't be rushed. It's not a good idea to leave the wedding dress choice and subsequent dress alterations for the last moment.

We all know that the process of making a wedding dress isn't a quick one. In general, the making of a wedding dress takes around 4 to 10 months on average. So, the earlier you start shopping for the right wedding dress design for you, the better. 

This will also guarantee you a satisfying final result. 

The general recommendation for all brides who are looking for a wedding dress is to start shopping at least 9 to 12 months before the special day.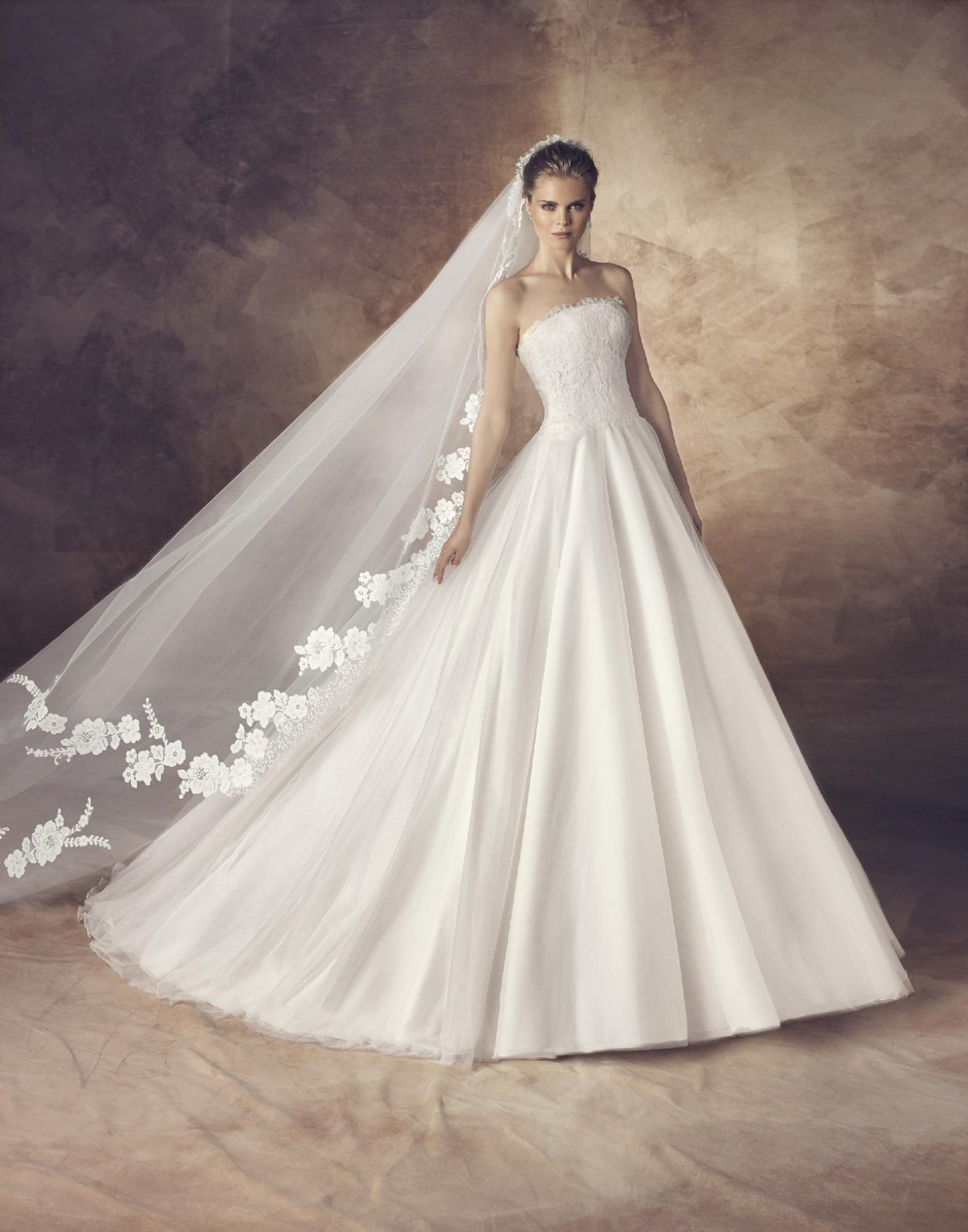 Some wedding dress fitters and designers offer their customers rush services that are quicker than the standard fitting services but these often involve an extra fee. 

Some wedding boutiques offer you the option to buy wedding dress samples which are usually on a lower price than the other brand new wedding dresses.
Consider a less formal wedding
Casual weddings always involve lesser expenses than formal weddings. Organizing your wedding in a casual style will help you cut on costs. 
Make a research
Making your research for a suitable wedding dress well in advance is a must. You should determine what type of a wedding dress exactly suits you and matches your personal taste for fashion style. 

If you need help when doing this, you can use the professional services of wedding dress boutiques that will provide you with the professional advice you need. In this way you will make sure that your wedding dress looks flattering on you and it's the most suitable choice for your wedding.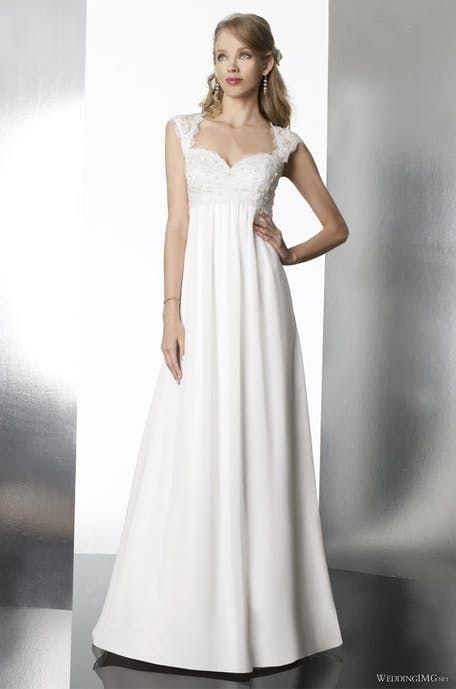 Make a bridal salon appointments
Getting professional advice concerning your choice of a wedding dress is a key step in making the right choice. It's recommended to schedule your bridal store appointment in one day or weekend. This way you will be able to compare them more easily and remember the specific features of each dress.

It will be more difficult to do this, if your wedding fitting appointments are separated by weeks. The lesser the time period between them, the better. 

If you decide to plan your fitting appointments in one day, you can organize a bridal lunch on that day between the appointments. This is a great opportunity to gather your team of bridesmaids and allow them to give you ideas and their opinion about wedding dresses.
Contact your chosen wedding boutique in advance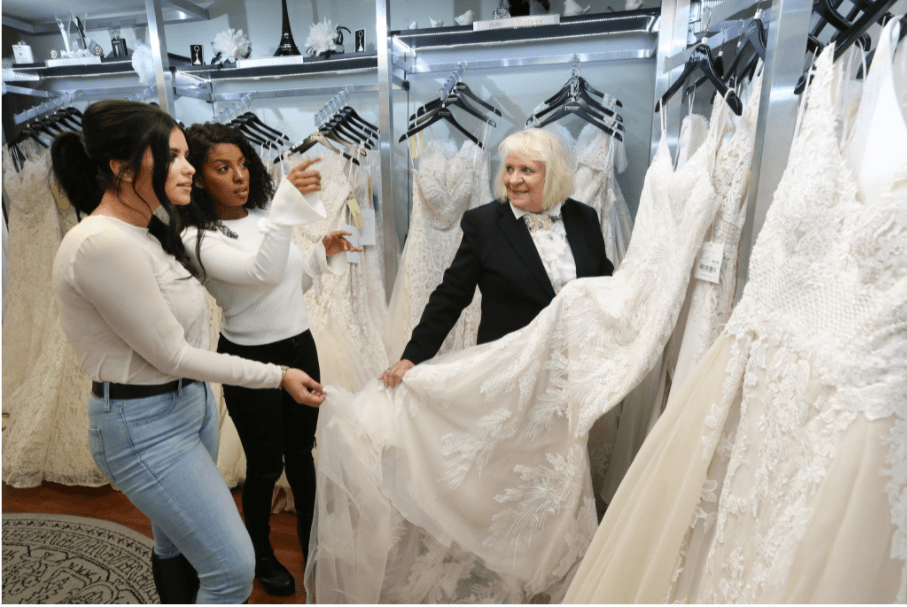 Calling the bridal shop you have chosen well in advance to let them know what type of wedding dress you are searching for. Bridal boutiques usually keep details about their customers 'weddings. This means after calling them you should give them some brief information about your wedding.

For example, inform them about the date of your wedding, the venue, what is the theme of the wedding, what are your favourite types of wedding dress designs. 

Another good thing to do is to ask your bridal boutique whether they have in store wedding dresses from your favorite brands and designers. In case they don't have your favorite wedding dress design available, ask them if they have a sample of the dress design you want or if they can order a sample. 
Prepare your questions for your bridal stylist
It's always a good idea to prepare all of your questions concerning the wedding dress. Ask your bridal stylist how long it will take for your favorite wedding dress to be ready, whether they ship it to you and what the shopping charge will be. 

It's important to ask them whether they make alterations to wedding dresses in-house or if they recommend an experienced seamstress for this job.