The choice of a wedding dress is one of the main steps in the entire wedding preparation. If you like fashion then you will probably be interested in incorporating some of the latest fashion trends into your wedding dress design. 
Fashion trends are everywhere and we see them also in fashion clothing. We see so many nostalgic trends making a reappearance in the fashion world such as the 70s, 80s and the 90s trends.
The 70s era gave us the boho wedding dresses, the 90s gave us the minimalist design wedding gowns and the 80s gave us the romantic and elegant puff sleeve wedding dresses.
But it's important to mention that modern day wedding dresses just share some features with the wedding dresses of the past fashion eras and they are unique in their own way. 
Designers have made their own versions of this popular trend and now we have a rich choice to choose from. 
Some of you may already know that puff sleeves are in fashion now and this trend can be seen in the designs of wedding dresses as well. Puffed up sleeves make you look like a modern princess and they always add a touch of elegance to the overall design of any wedding dress. 
As you know wedding dresses come in numerous designs, textures and styles. So, the choice of a suitable wedding dress can be really overwhelming. 
There is a big variety of wedding dress styles with puff sleeves. Puff sleeve bridal gowns come in many designs and their balloon cuffs are available in different designs, shapes and sizes. For this reason you may find it difficult to pick up the right type of wedding dress for you. 
Don't worry, because we are here to help you. In this article we present to you several wedding dress designs with puff sleeves.
Modern wedding dresses with puff sleeves
1.Bridal gown with puffed up sleeves
If you are looking for a wedding dress with a feminine style, this boho style wedding dress is the perfect option for you. The dress features corseted bodice, crinkled chiffon and it guarantees you a maximum comfort during your special day.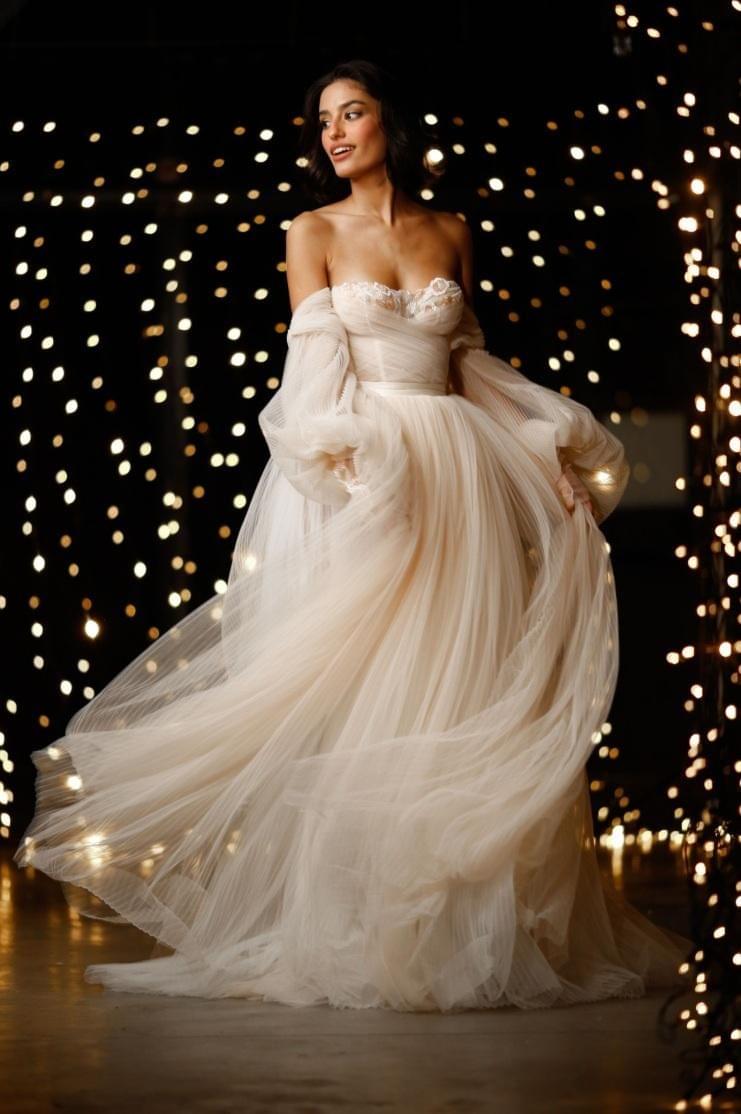 2.Pencil wedding dress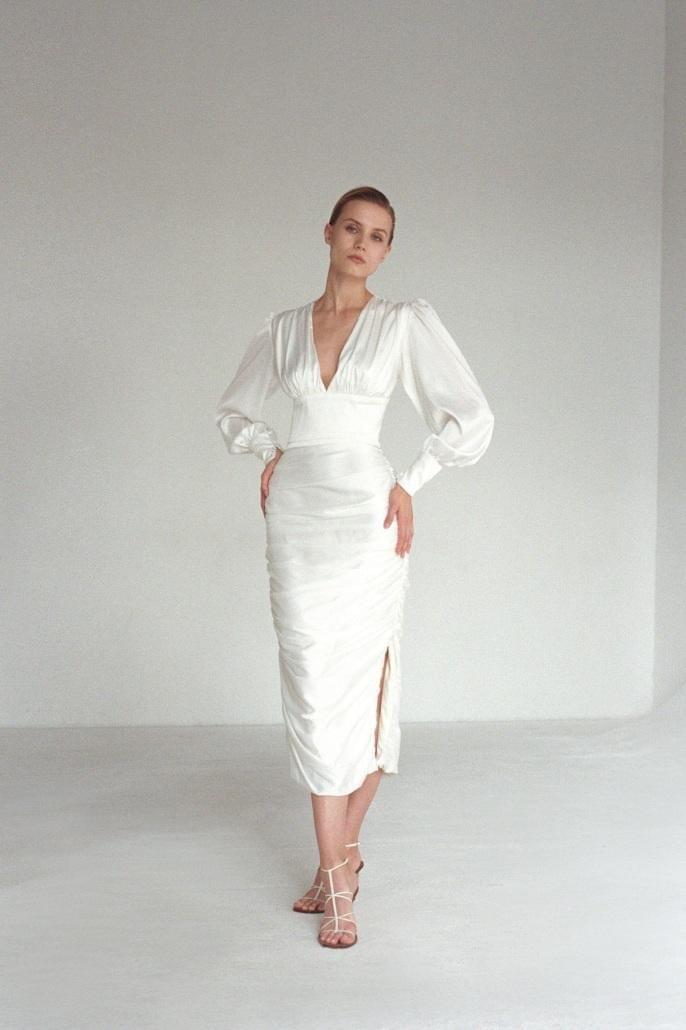 This super elegant wedding design features a minimalistic design and puffed up sleeves that guarantee you a stunning wedding look. The design of this dress features a plunging neckline and balloon sleeves that will definitely grab attention.
3.Empire waist gown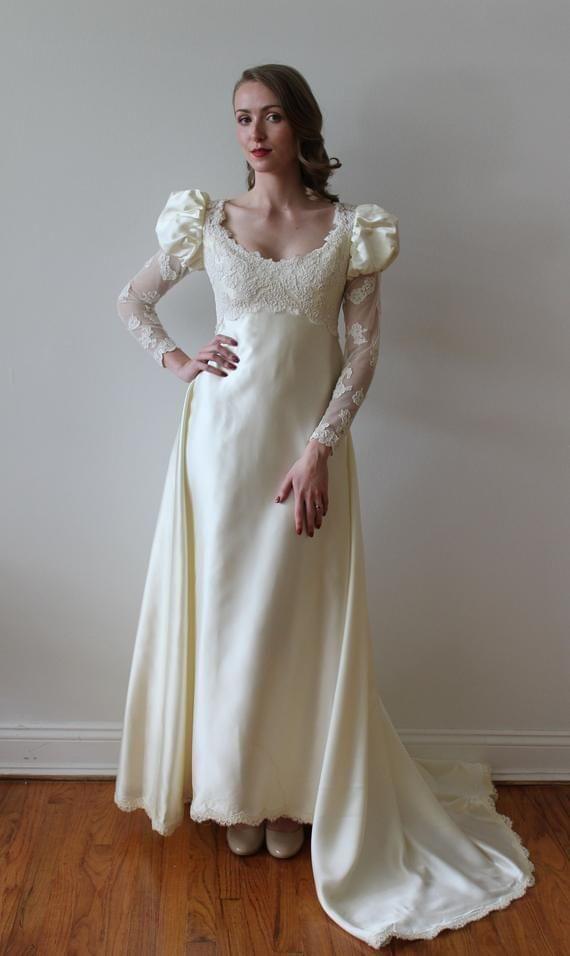 This wedding dress design with voluminous crinkled sleeves featuring lace fabric offers your wedding look a romantic vintage vibe inspired by the 60s and 70s. The wedding gown features a scoop neckline, lace and silk texture.
4.Mermaid style wedding dress with puffed sleeves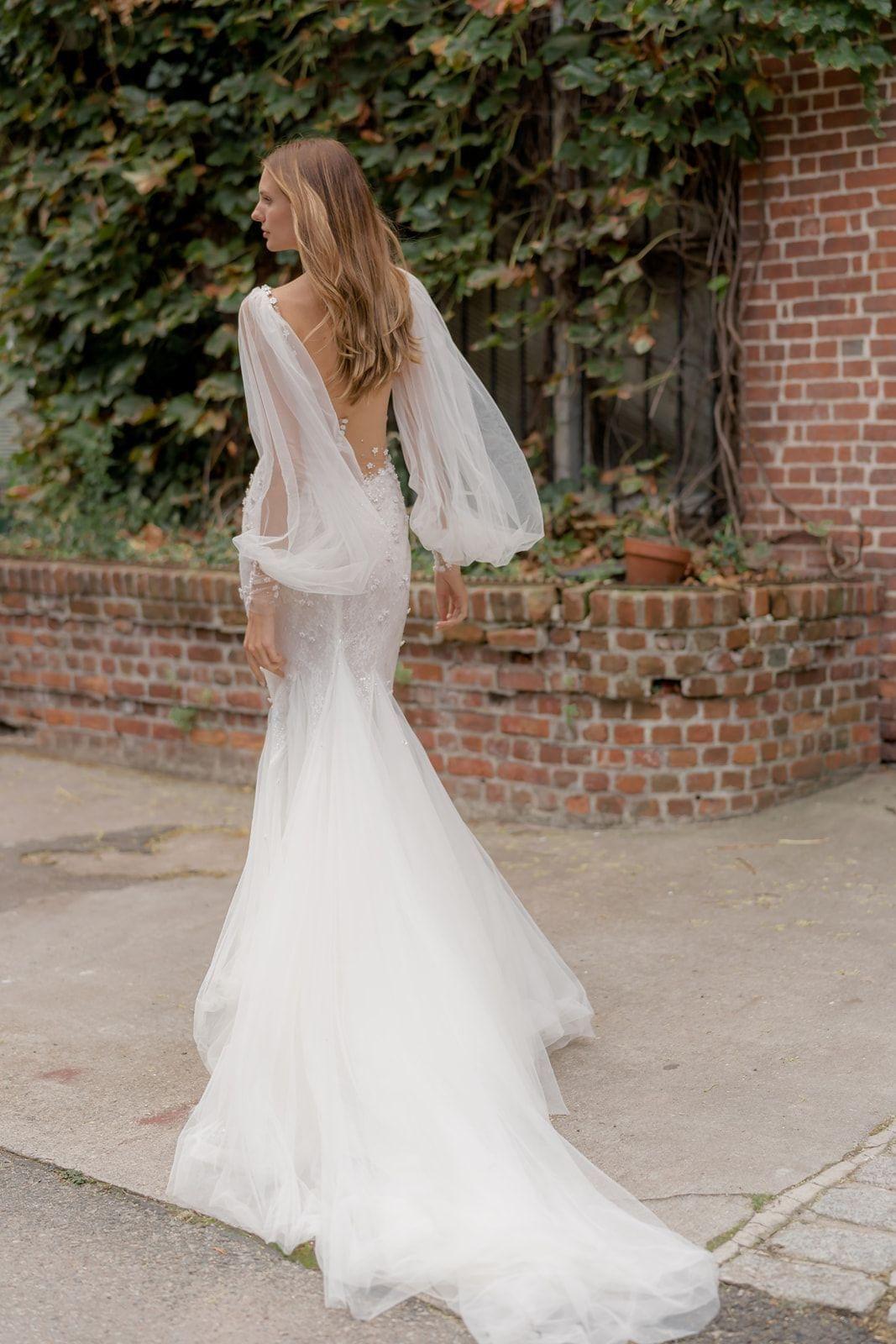 The low back of this wedding gown in a combination with a mermaid skirt will definitely make you look like a Hollywood star.
5.Lace wedding dress with a low back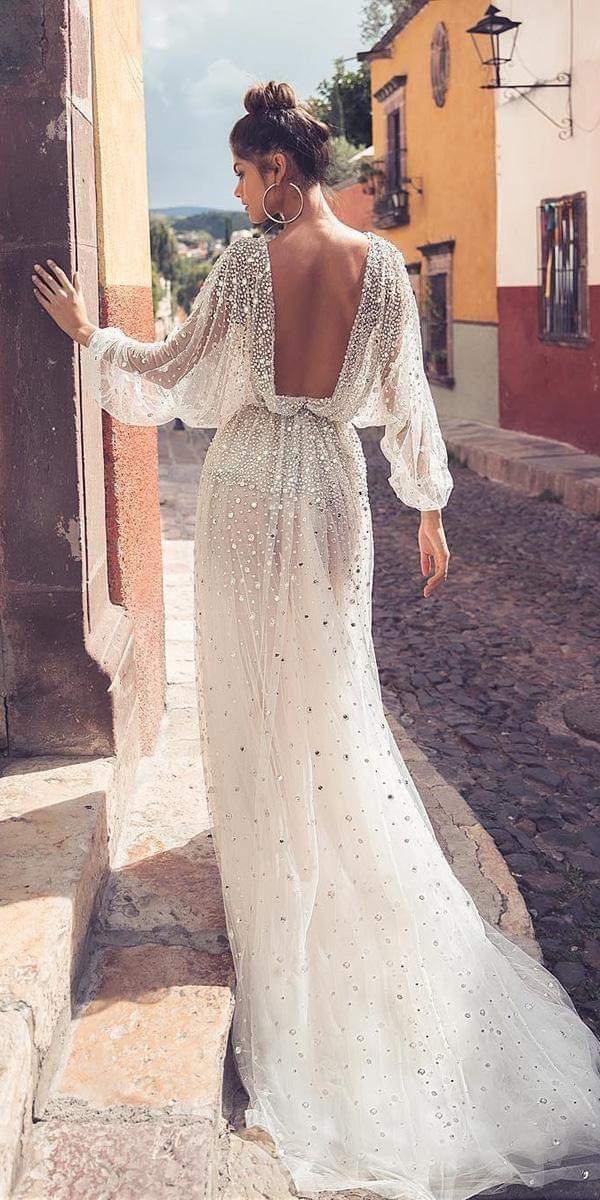 This wedding dress is a modern version of the classic lace wedding gown. The low back gives a feminine style to the dress and the lace adds a touch of elegance. The sleeves can be styled either on or off the shoulders.
6.Floral lace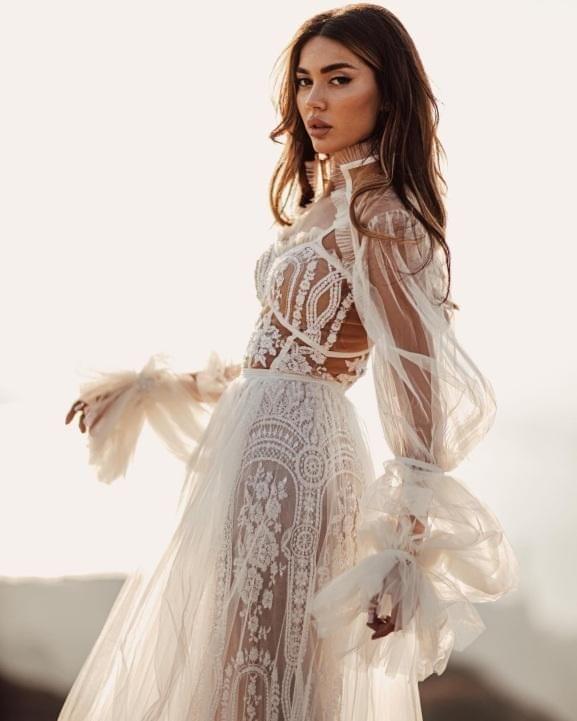 This type of wedding dress offers a nostalgic vintage style. Its design includes lace fabric, voluminous crinkled sleeves, a sheer skirt and a high neckline. Each of the dress details perfectly balance each other and this gives the dress a fresh and modern vibe despite the lace texture.
7.Taffeta wedding dress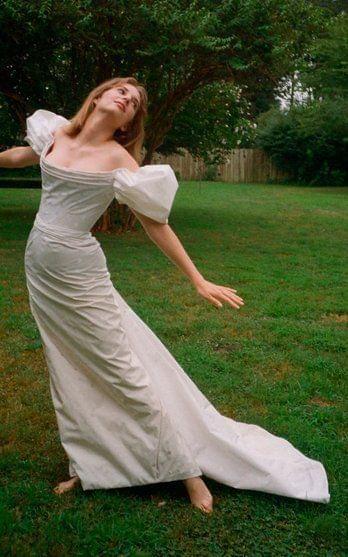 Taffeta is one of those vintage fabrics that always give a wedding dress an elegant style. This wedding dress model has both minimalist and modern design. The modern vibe of the dress is achieved by the back cut-out and the low neckline.
8.Satin wedding dress with removable sleeves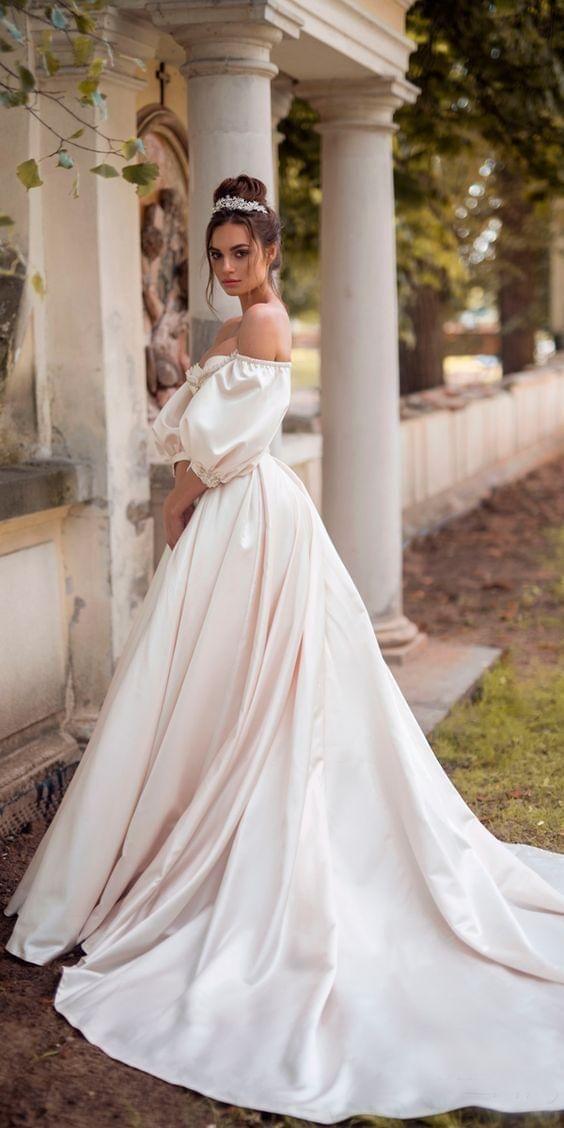 Satin is another fabric that is an excellent choice for a wedding dress. This versatile off-the-shoulder wedding dress offers a unique feminine design that features removable sleeves which can be styled asymmetrically to achieve an interesting eye-catching detail.
9.Crepe wedding gown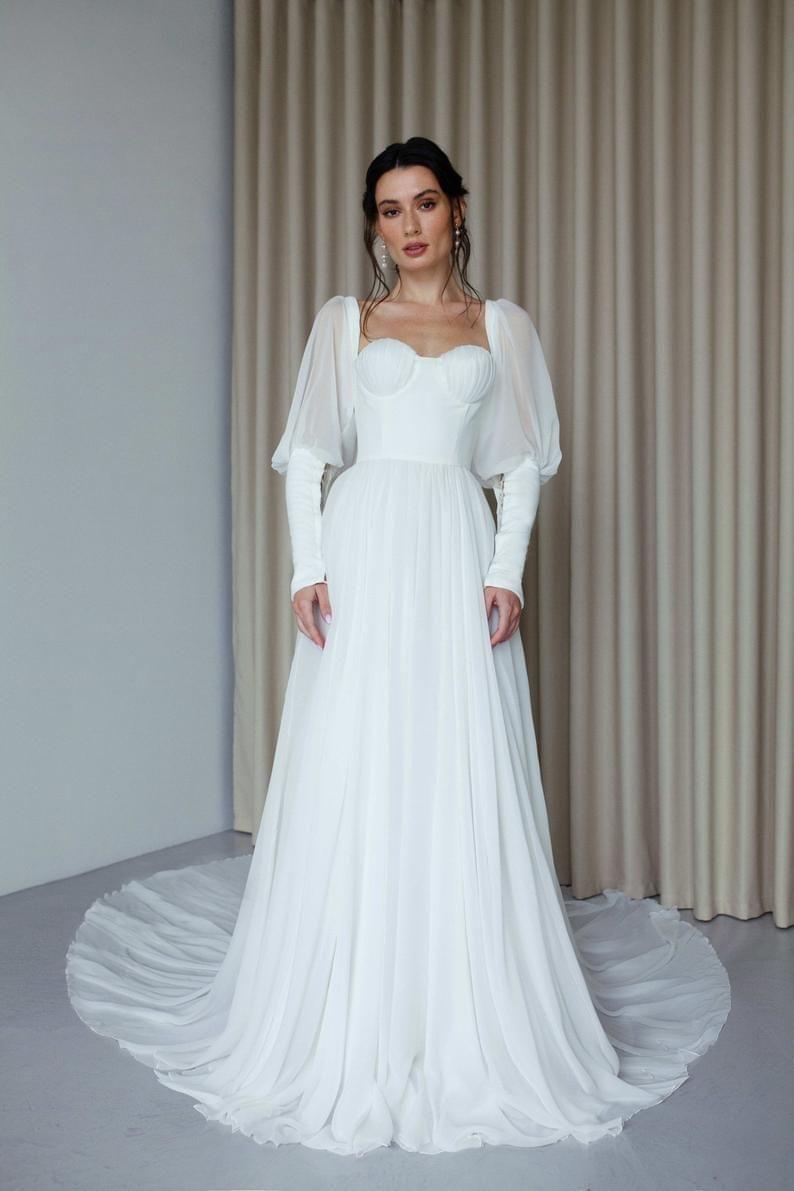 This wedding dress demonstrates another great use of the 80s trend. The puffed up sleeves are in a perfect balance here with the sweetheart neckline and floor length skirt.
10.Minimalist long sleeve wedding gown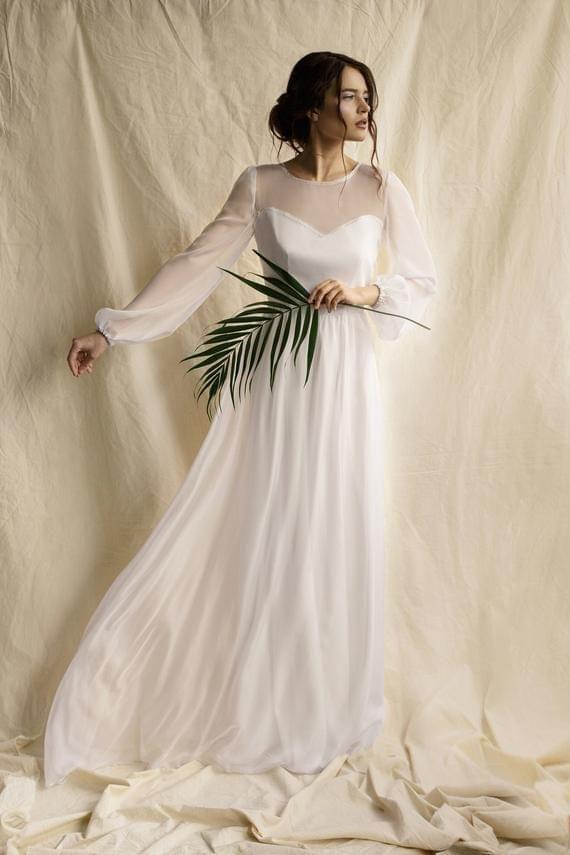 This dress features gently puffed sleeves, a double neckline design with a sheer and a billowing skirt. It shows us how you can incorporate the trendy puffed sleeves in a subtle way.
11.A-line lace wedding gown with puffed sleeves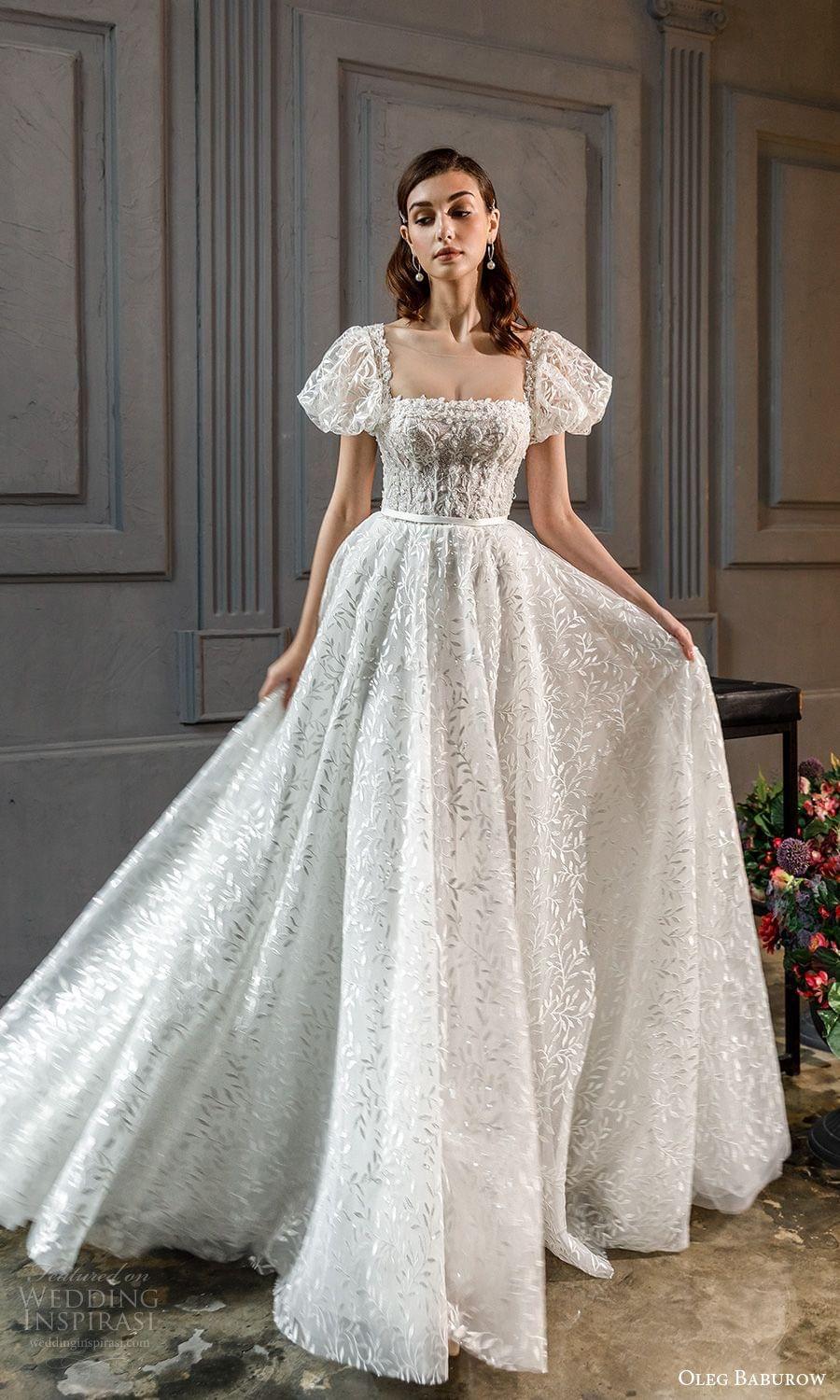 This simple design wedding dress that has short puffed sleeves and fitted bodice is another example of how you can incorporate the 80's popular elegant trend in an effortless way.
12.V-neck wedding gown with long sleeves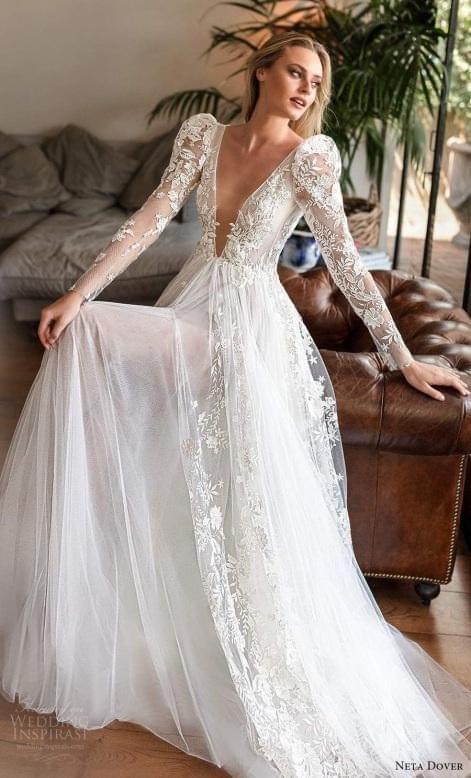 If you really like the 80's dress styles, then this attractive wedding dress is a suitable option for you. The long puffed sleeves, the floral lace and the long billowing skirt achieve an elegant style while the low V-shape neckline gives the dress a modern vibe.
13.Off-the-shoulder wedding dress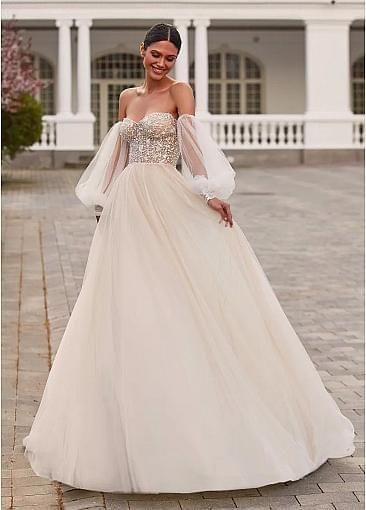 If you want a romantic princess-like and modern look for your wedding, this wedding dress design is perfect for you. The modern look of this wedding dress is achieved by its low back design.
14.Tiered summer wedding dress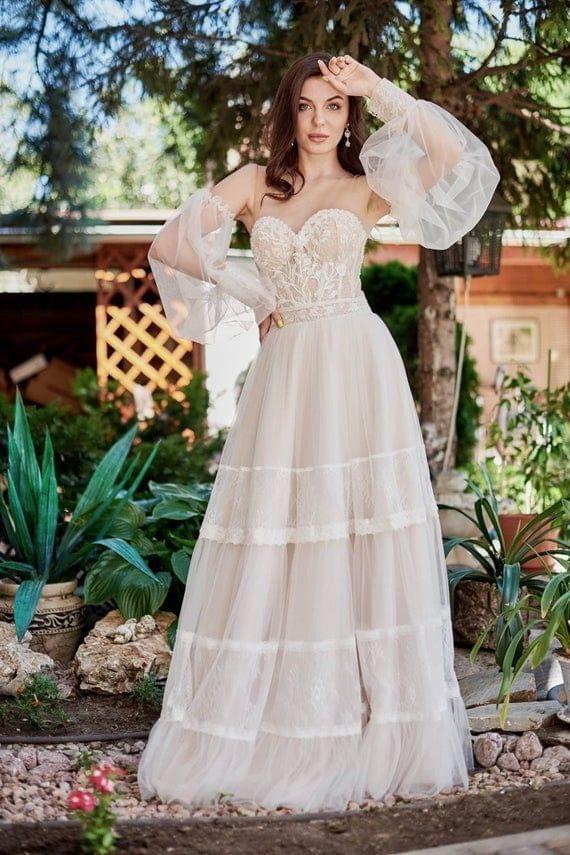 If you are looking for a modern summer wedding dress with an airy design, this wedding dress is for you. It features tiered skirt and off-the-shoulder puffed sleeves that give it a feminine style.
15.Gala night style wedding dress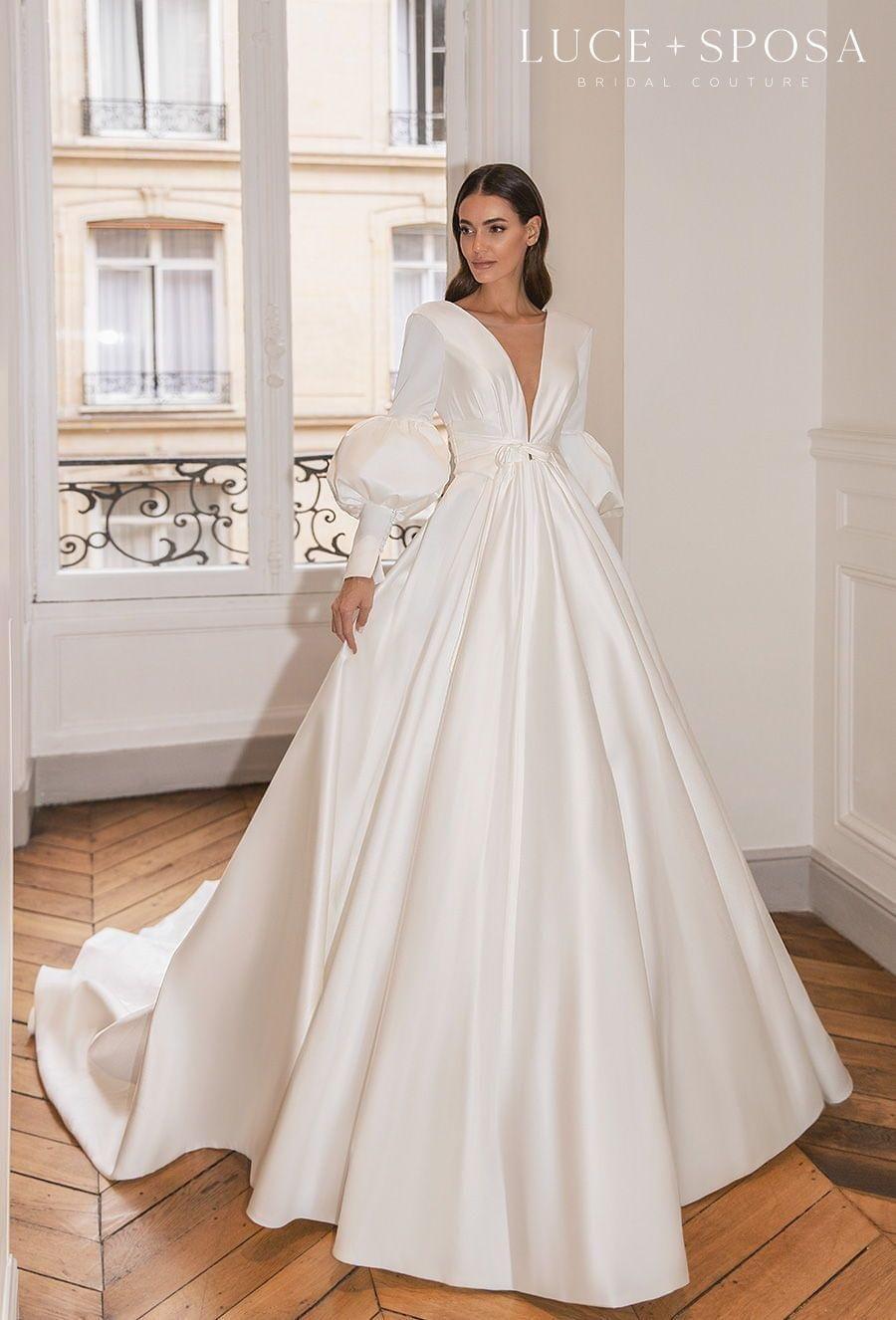 This silk wedding dress design with massive sleeves, low neckline and long billowing skirt is perfect for you, if you want a glamorous 80's style wedding dress. Choosing to wear such a wedding dress design will turn you immediately into a red carpet star.
16.Corset wedding dress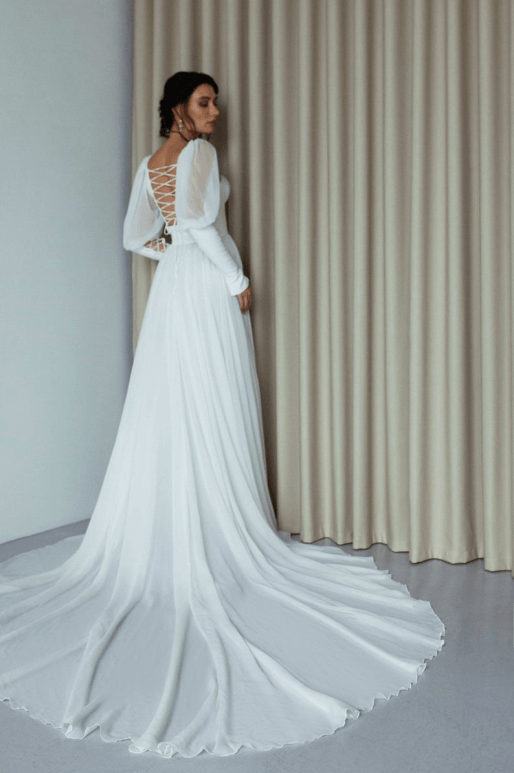 This wedding dress guarantees you a stunning look on your wedding. The puffed up sleeves give the dress a touch of elegance and the fitted corset achieves a feminine silhouette.
17.Vintage style wedding dress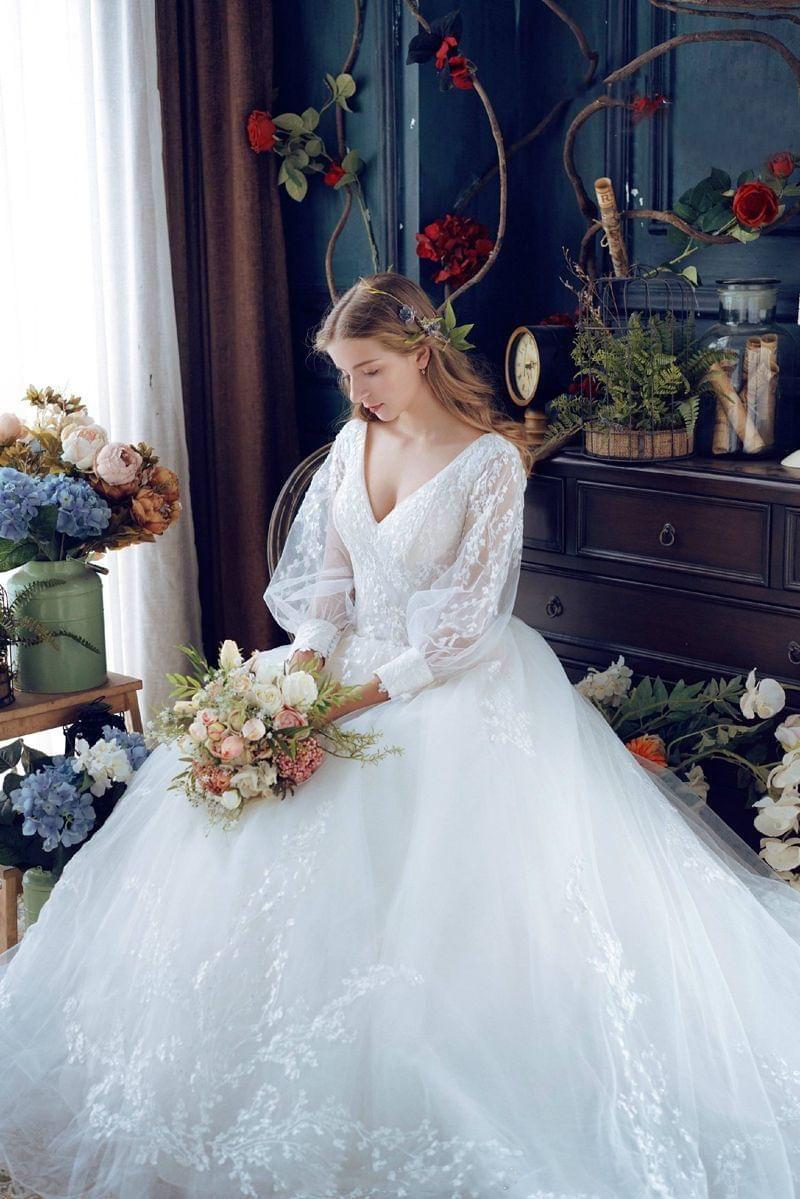 If you like minimalist retro wedding dress designs, this Victorian-style wedding dress is for you.
18. A-line spring/summer wedding dress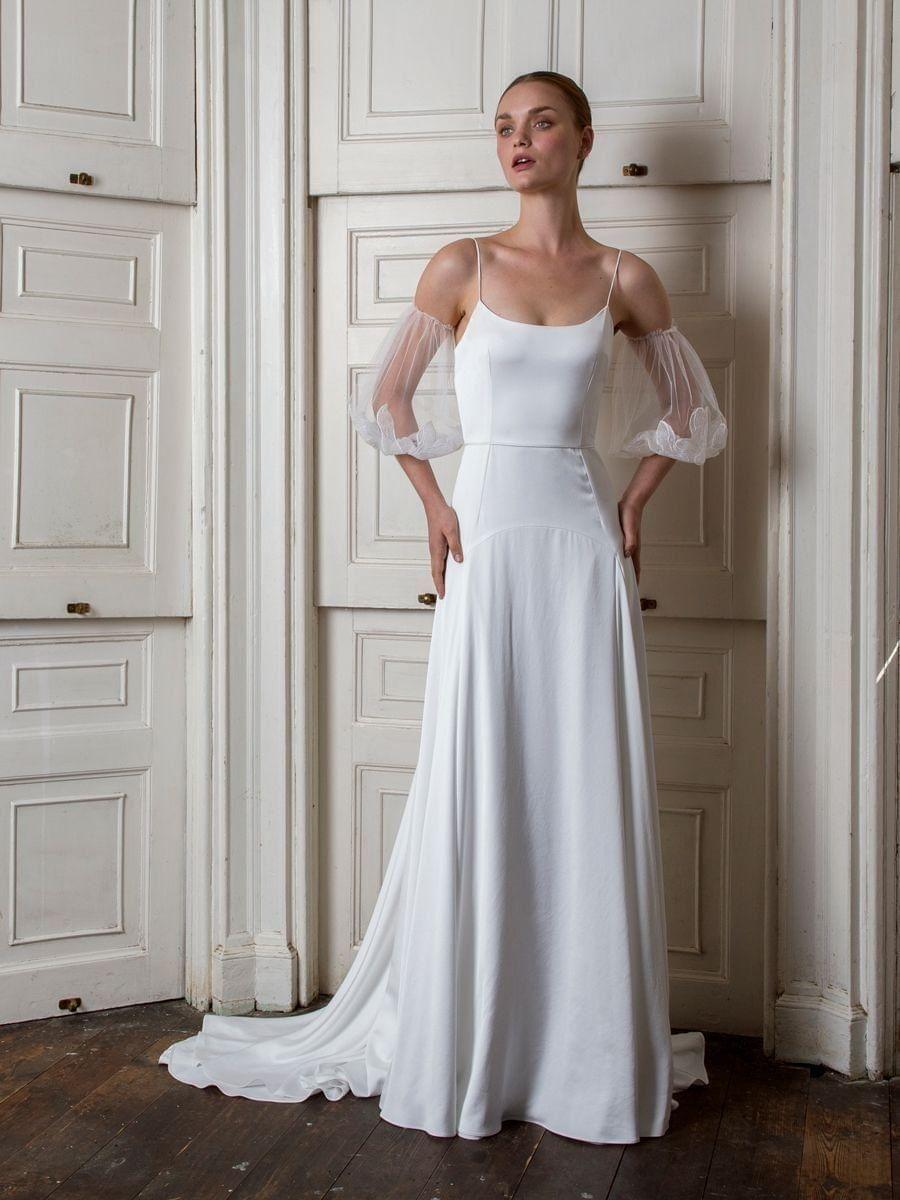 This elegant wedding dress with slightly puffed sleeves with a sheer fabric and floor length skirt helps you achieve a modern design summer look for your wedding.
19. Off-the-shoulder floor length wedding dress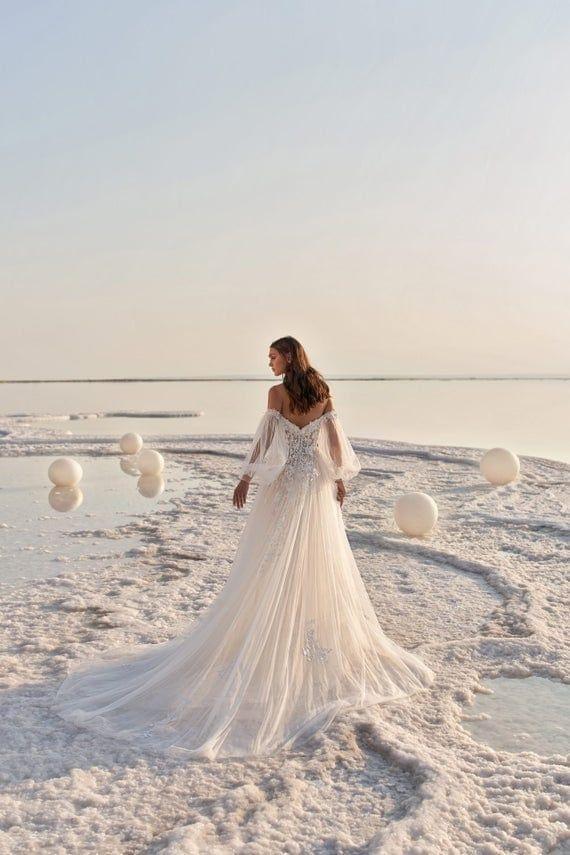 If you are looking for a wedding dress that looks like it has come straight from a fairytale, this long wedding dress design with a cut-out back and balloon sleeves is an excellent choice.
20. Classic style wedding dress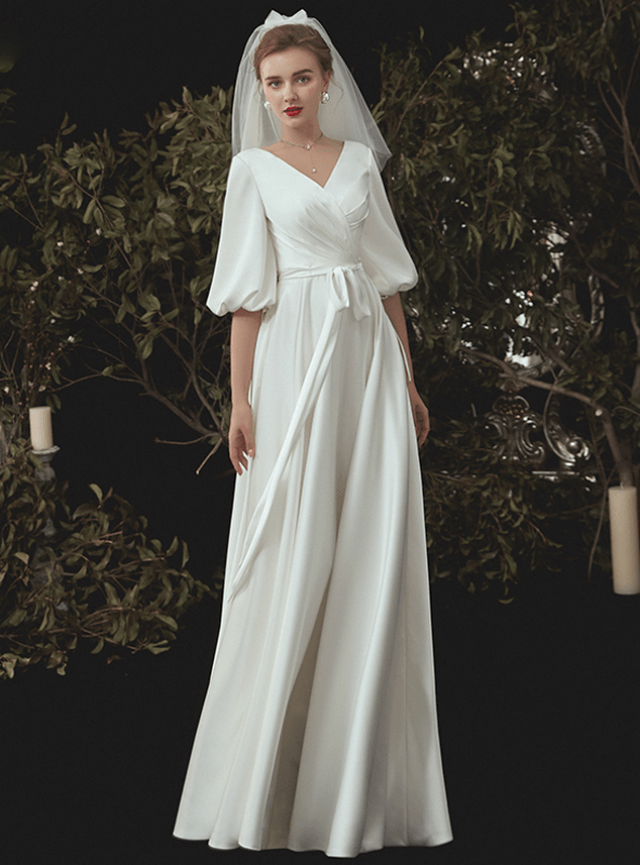 If you like the classic minimalist design of the 70s, this wedding dress design is a good choice of a wedding gown for your special day. The belt creates a feminine silhouette and the puffed up sleeves make your look elegant.