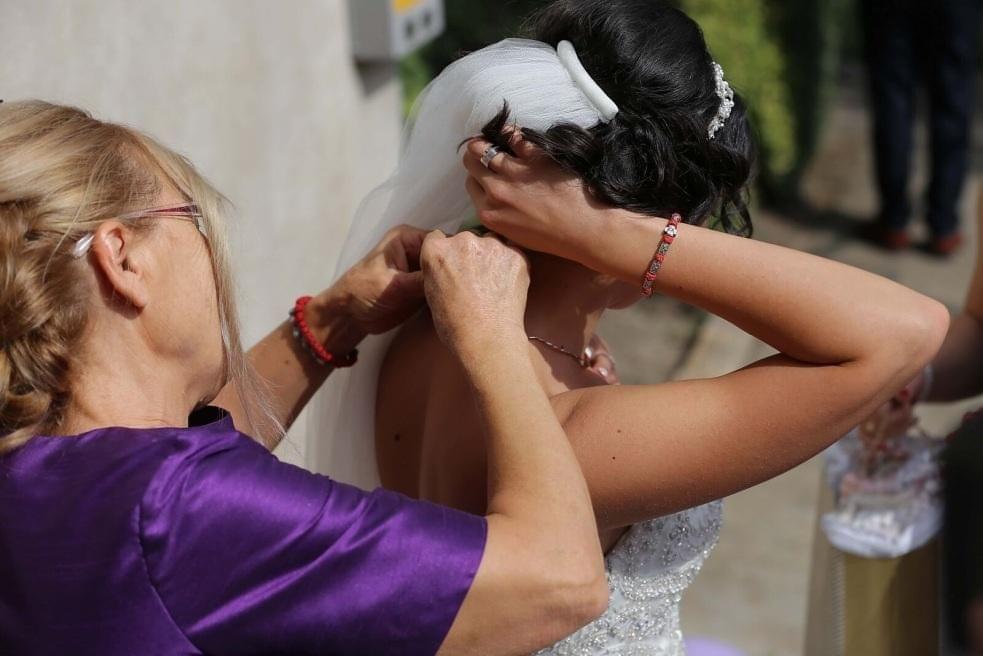 Weddings are amazing events that gather families and friends together and remind us about the most important things in life. Reparation and research are inseparable parts of the preparation of any major event such as a wedding. The wedding planning includes different steps and the choice of dresses for the bride and her mother are probably some of the most important decisions. After all, the bride and her mother will get much attention during the wedding day, so their looks should be immaculate. The bride's mother, who is one of the most important people in the life of the future wife, needs to feel special on that special day.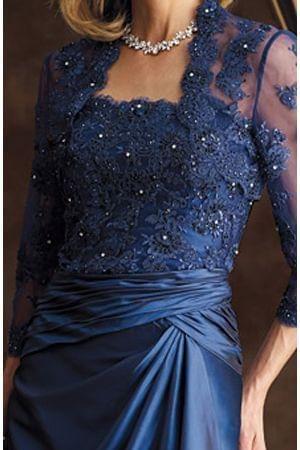 Every mother of the bride deserves to look her best and feel special on her daughter's wedding day. That is why her outfit for that special event should be carefully chosen. In fact, the mother of the bride's dress style has changed over the years and now bride's mothers should feel free to experiment with new fashion ideas and follow their own unique style and dress preference that is different from the traditional bride's mother dress designs . If you are a mother of a bride, it's important to match your dress with the wedding color palette and décor as well as pick it according to the season. When it comes to color, you are free to choose any type of shade with the exception of white of course. If you are planning to wear light colors, suitable options for you are ivory and champagne. Black is another color that is controversial and it's generally not recommended to be worn at weddings. Bright red or pink are also among the colors you should avoid, as they will attract much attention and this privilege is usually reserved for the bride.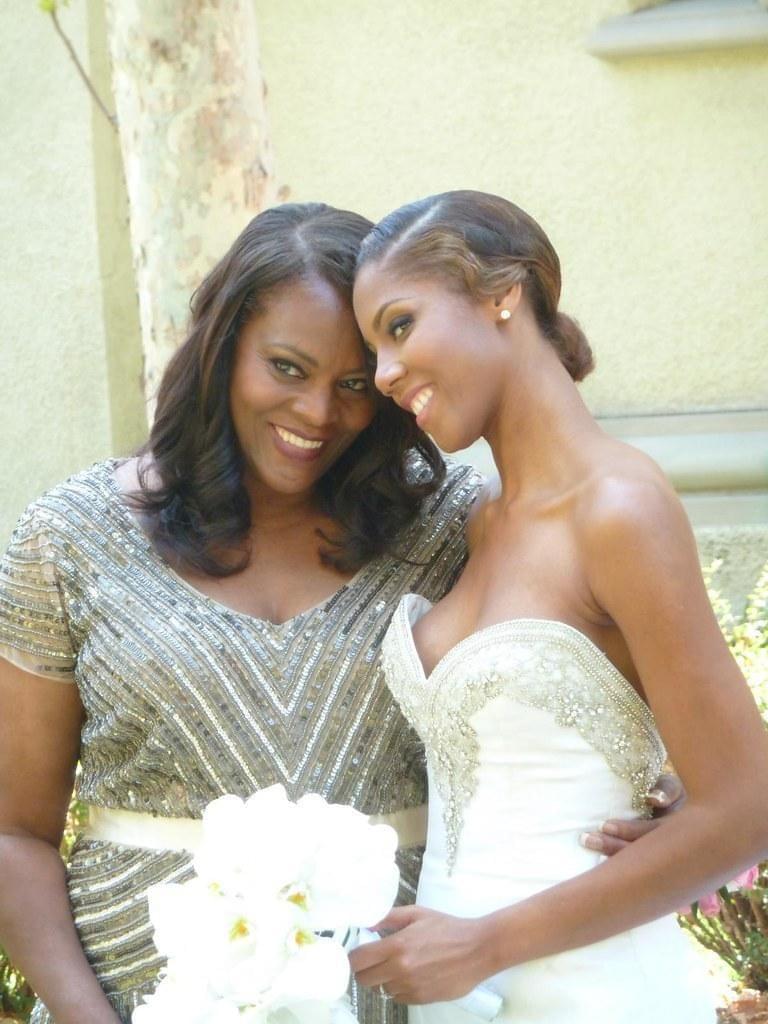 Some of the most popular colors for the bride's mother dresses are:
dove grey

blue, navy

burgundy

beige

light brown

dark green

silver

goldsilver
When choosing the most suitable mother's bride dress you need to take into consideration several things:
wedding venue

season

dress code

body type
We will help you choose the perfect mother of the bride dress.We have prepared for you here a couple of fashion ideas for mother of the bride dresses for those of you who are searching for some inspiration. They are suitable for different types of weddings and every season and you can find them in different sizes - from petite to plus size. Let's jump into this year's stylish bride's mother outfits.
Top mother of the bride dress ideas for 2021
Beaded mesh dress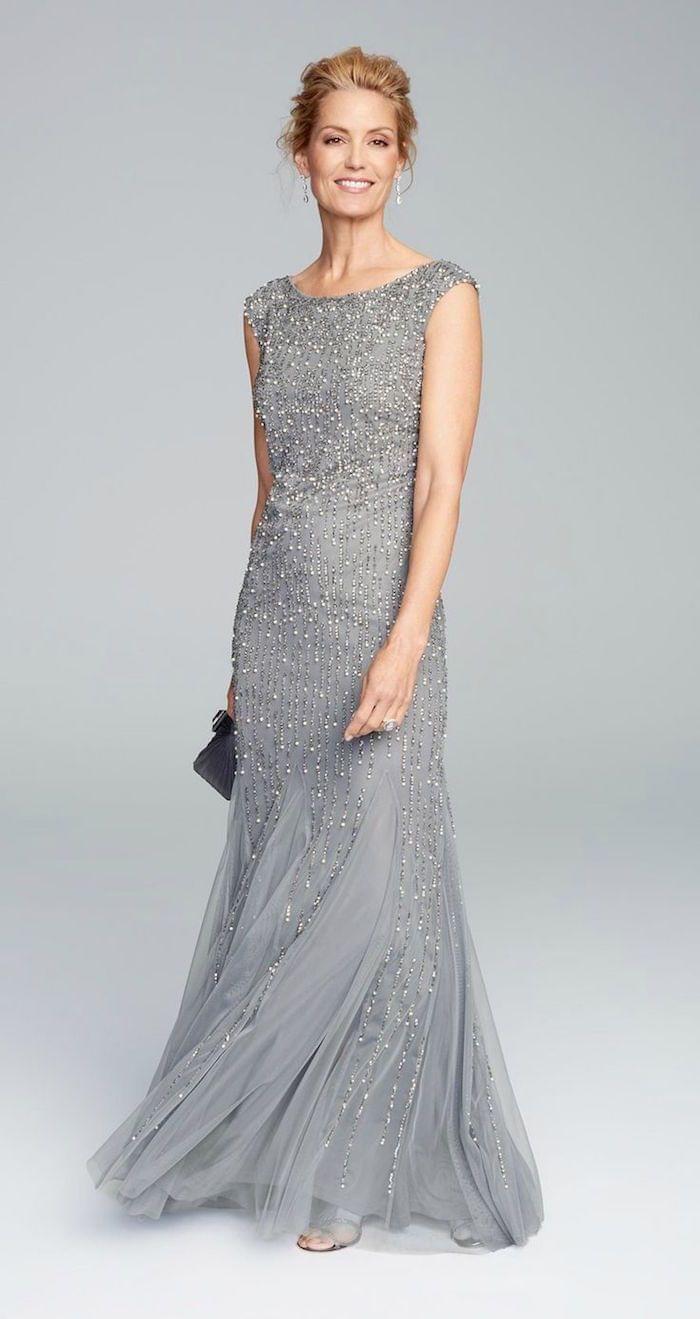 A mesh column gown is the perfect choice of a dress for the bride's mother. The design of this mesh dress features short sleeves which makes it suitable for spring or summer weddings. Grey is a classic neutral color that is flattering to every skin tone and it can be worn at a variety of events. Beading in blue, grey and silver shades gives a sophisticated vibe to this mother of the bride outfit. These colors also add dimension to this type of mesh dress.
Satin maxi dress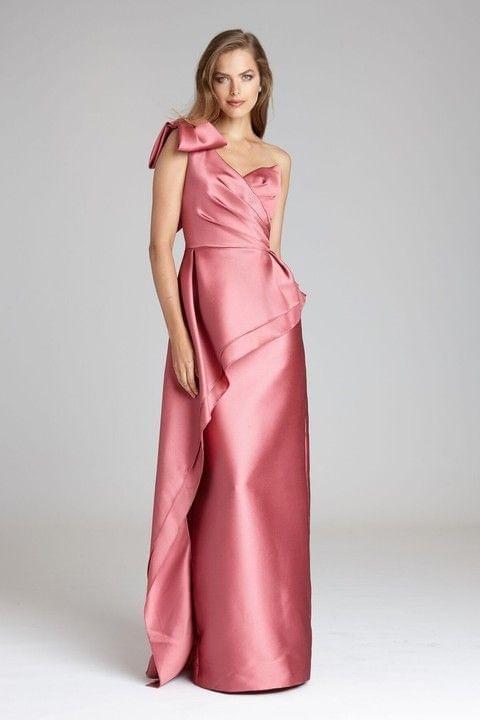 This dress with a timeless elegant design is perfect for both formal and semi-formal weddings. The advantage of this type of bride's mother dress is that it can be worn again at other events that aren't weddings. This dress features a V-shaped back that gives your look a sophisticated style. Make sure to pick up a dress made from the highest quality satin.
Lace or satin cocktail gown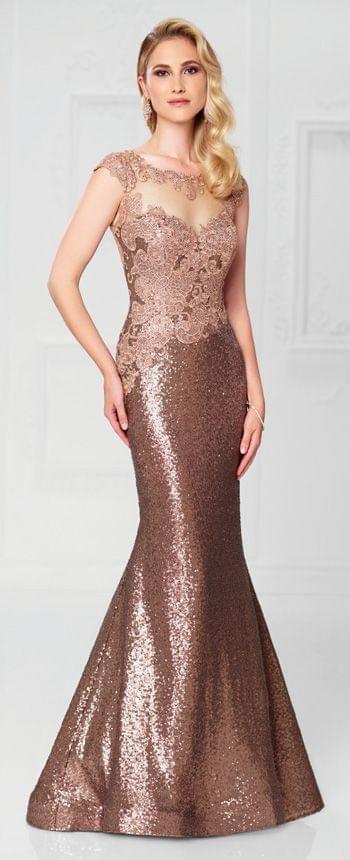 This type of elegant off-the-shoulder trumpet gown is a good choice of a dress for the mother of the bride. This dress design consists of a wrap skirt, lace bodice, sparkling detailing and ruching. The lace bodice gives the dress a unique look. The advantage of this dress design is that it's flattering for all body types and it makes the figure appear visually slim. The sparkle details and delicate lace of this dress add a chic vibe to the entire look.
Jersey sheath dress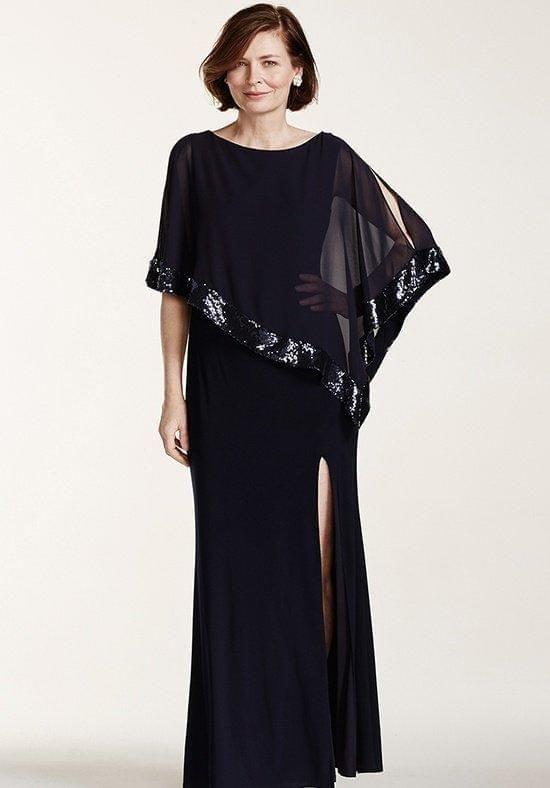 This type of bride's mother dress features a modest neckline and a sequin-covered capelet and a skirt with a high slit. Its style is both feminine and elegant. It's suitable for all body types and can be worn at almost any time of the year.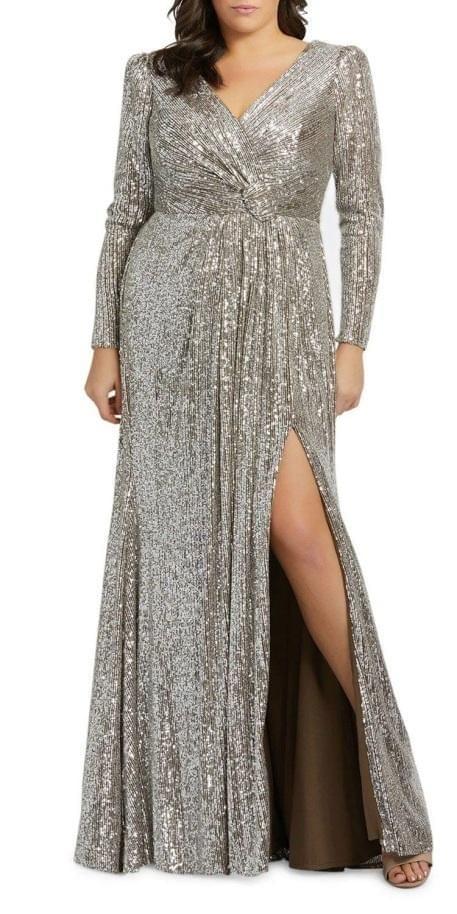 With this elegant wrap design dress that sparkles head-to-toe you will definitely get the attention. The design of this dress features a wrap at the front with a twist and it's suitable for all types of black-tie events. It's just perfect for holiday weddings.
Beaded maxi dress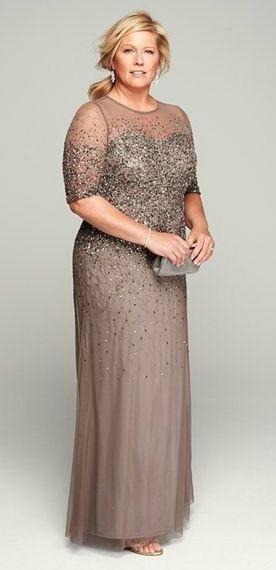 Beaded maxi dresses are perfect for those of you who don't like flashy outfits but still want to make a statement with some subtle detailing. You can either choose shimmering textiles or plain textiles in solid color.
Floral dress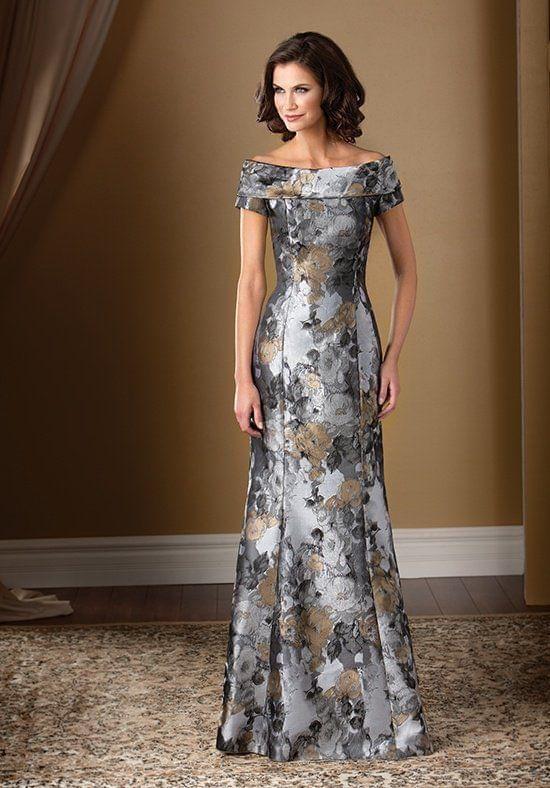 Floral dresses offer a retro vibe and feminine style. This dress design is perfect for weddings held in a garden setting. Combine it with some simple design woven wedges or high heels and you are ready to go.
Draped satin bodice gown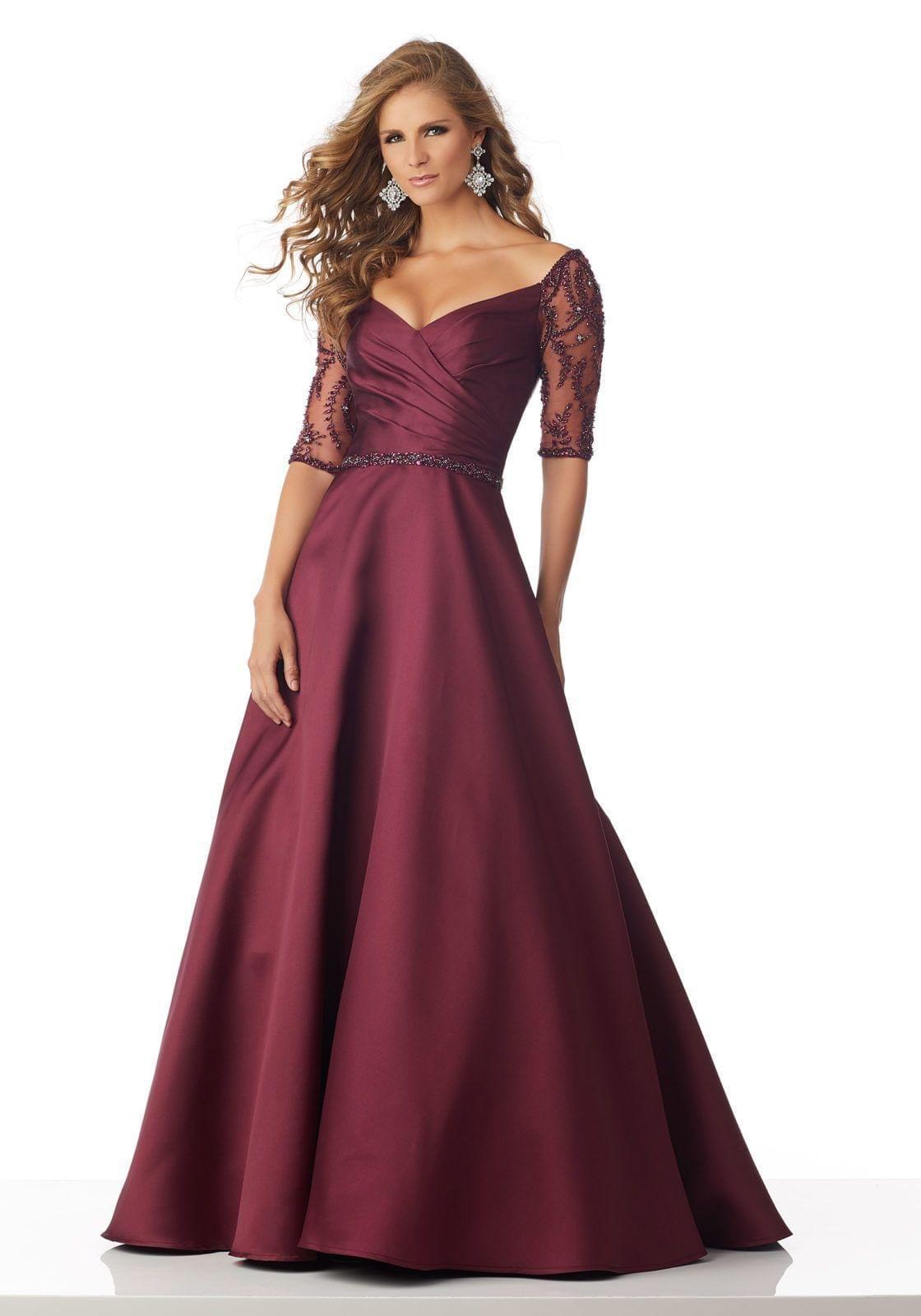 Satin always looks chic and it's a texture suitable for black-tie events. Draped satin gowns are a good choice, if you want a feminine style bride's mother dress. The addition of a small belt or a bow gives this dress a sophisticated vibe.
Tiered gown with a multi print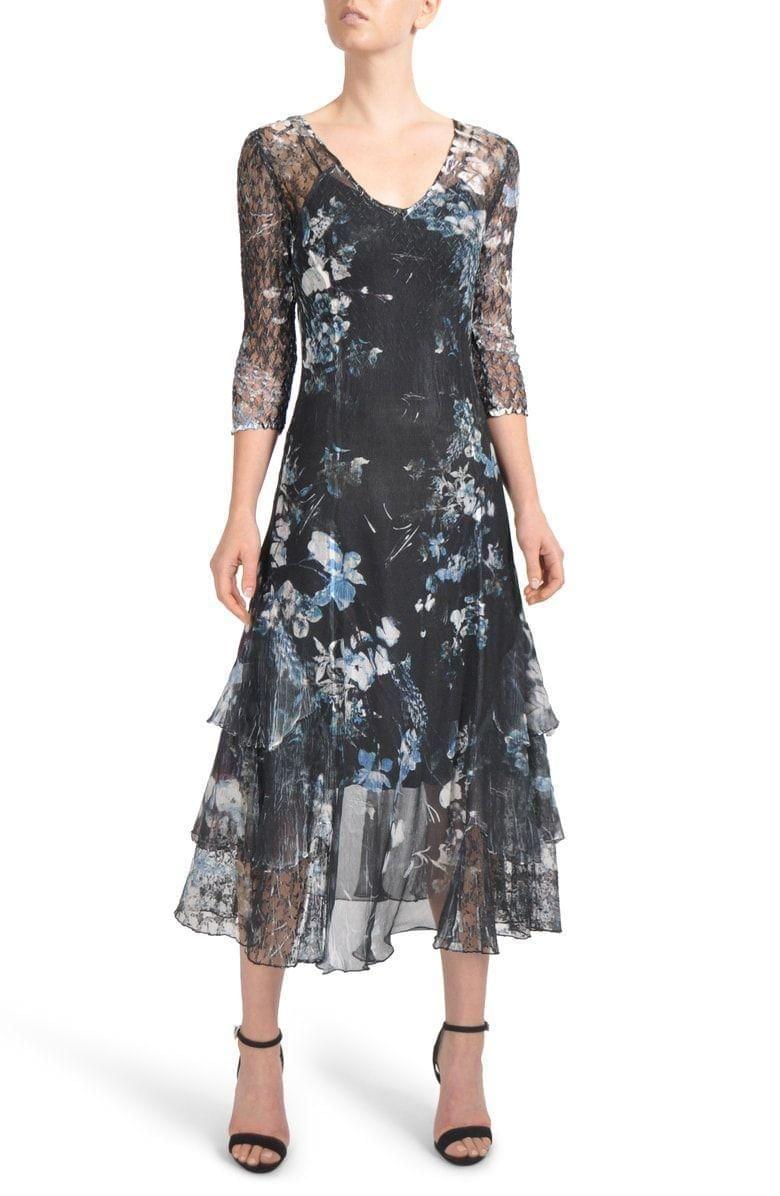 This type of dress is ideal for destination weddings or weddings whose dress code allows casual style clothing. You can either choose it for the wedding ceremony or the rehearsal dinner.
Tuxedo jumpsuit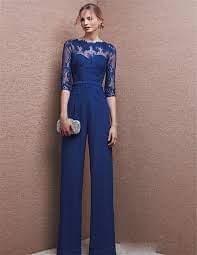 Who says a bride's mother should always wear a dress at a wedding? A great alternative to the traditional style bride's mother gown is the tuxedo jumpsuit which can definitely make you stand out from the crowd. And this outfit looks as elegant and feminine as the classic gown.
Off-the-shoulder gown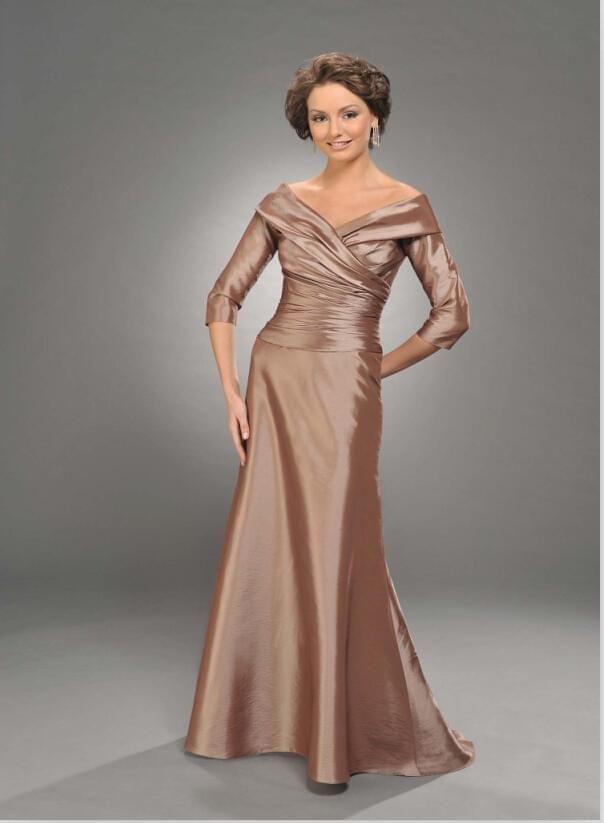 This elegant dress style for the bride's mother offers you an old Hollywood glam, especially if you pick it in a classic navy color. It's suitable for weddings and black-tie events and it's available in different designs-with sequins, beads, lace. Off-the-shoulder gowns offer you a great way to achieve a sophisticated style effortlessly. Its close-fitting design at the hips helps you achieve the desired hourglass shape.
Shirtdress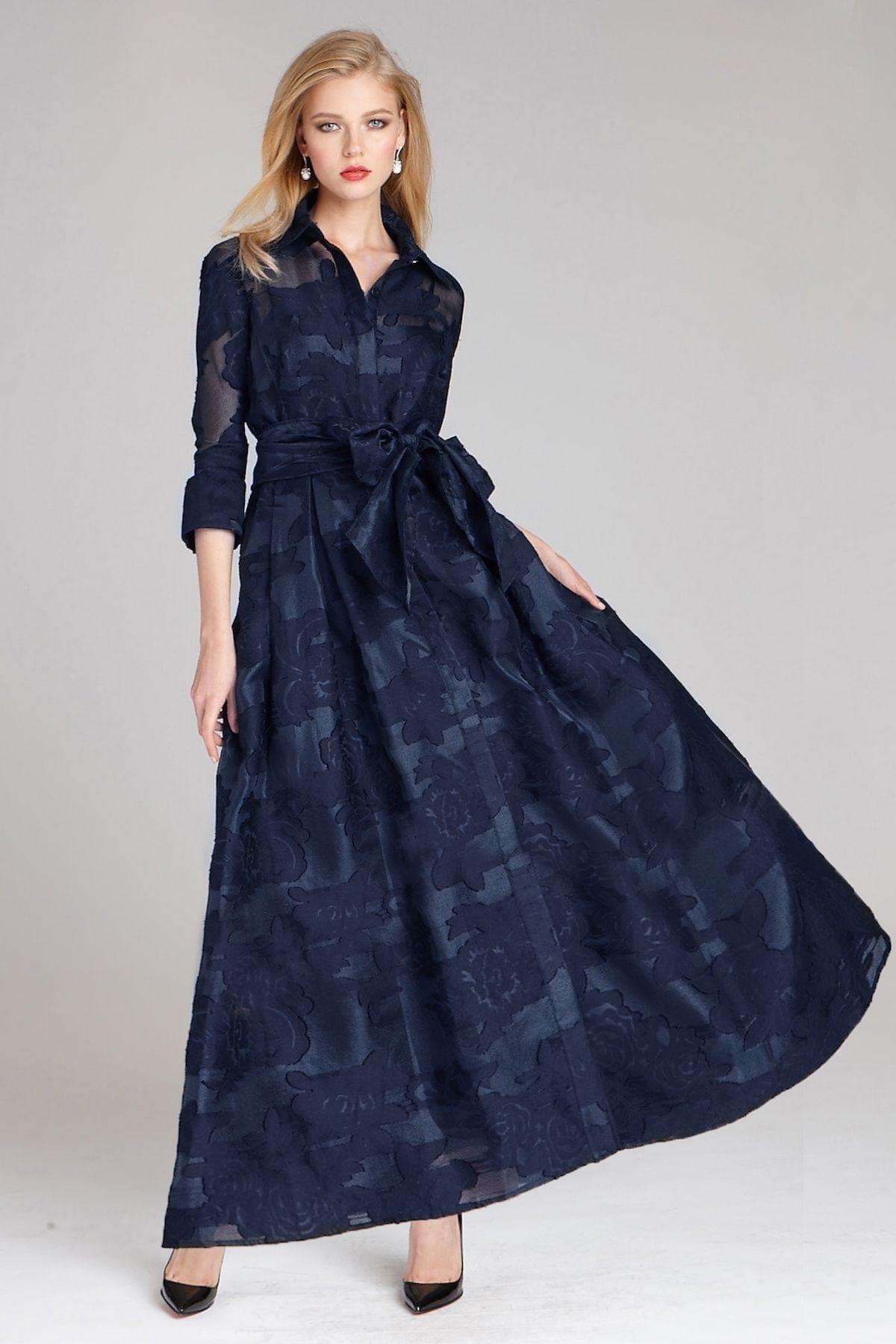 The specific design of the shirtdress helps you achieve a structured silhouette. Shirt dresses come in different designs and textures. The addition of a belt gives you a beautiful feminine look and subtle floral prints are perfect for spring weddings.
A-line belted chiffon gown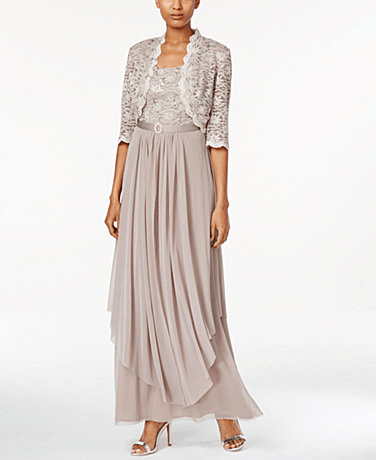 Belted gowns are one of the best dresses you can wear at black-tie events. If you are picking this dress design for your daughter's wedding, choose light pastel colors for a flattering feminine look. The classy and feminine design of this dress is achieved by the addition of different accessories and details, some of which are belts, beads and crystals. This dress is perfect for weddings in the summer or the spring season.
Satin midi dress with sleeves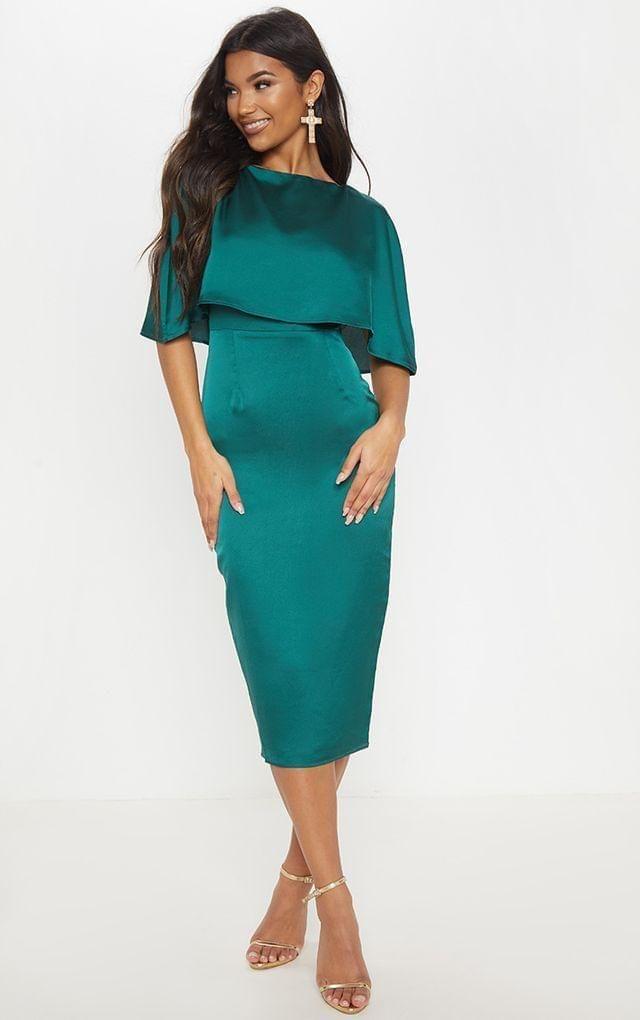 This kind of attractive bride's mother dress offers a perfect balance between a conservative and a feminine look. It features a midi skirt that can be either wide or pencil style, boat neck design, loose short sleeves and it has a tight-fitting design at the waist.