Congratulations, you're engaged! Your time online is suddenly dominated by searches for wedding dresses. It's natural for brides to start thinking about their wedding dress selection right away. Your wedding dress isn't the only one on your list, though. There are three other dress selections you may make for a wedding. Your bridesmaids, mom, and flower girl all need dresses for the big day! We've got you covered at Dress 2 Impress. Our selections in all categories are extensive, and our staff is ready to assist you. Before you jump into the process, we've put together some tips to get you started. 
Choosing Your Bridal Gown
Picking a bridal gown is one of the biggest decisions brides make when planning a wedding. A bride's style sets the tone for a wedding. As a result, it's a great idea to give this some thought before you start shopping. If you need inspiration, our website is a good source. Style choices to consider for wedding dresses start with the type of wedding you want. For example, a church wedding and evening reception calls for a more formal style. A destination beach wedding lends itself to a dress that's more casual. If you are considering a country-themed wedding, a boho dress may be a perfect choice. Once you've determined your general style, think about the shape of the dress. You want to look your best on the big day, so selecting a dress that highlights your best features is ideal. Some dress shape examples are full, straight, or form-fitting. Bodice and waist options are other things to keep in mind when choosing the dress shape. If you don't know what shape of dress looks best on you, it's time to start shopping. Trying them on is a fun way to figure it out! White is still the traditional color for wedding dresses, but it comes in many variations. Try selecting a shade that looks best with your skin tone. Or you can skip white altogether if you desire. Traditions are optional, and you can choose whatever color your heart desires. Your wedding dress is something you'll remember for the rest of your life. Pick the wedding dress that speaks to your heart.
Bridal Collections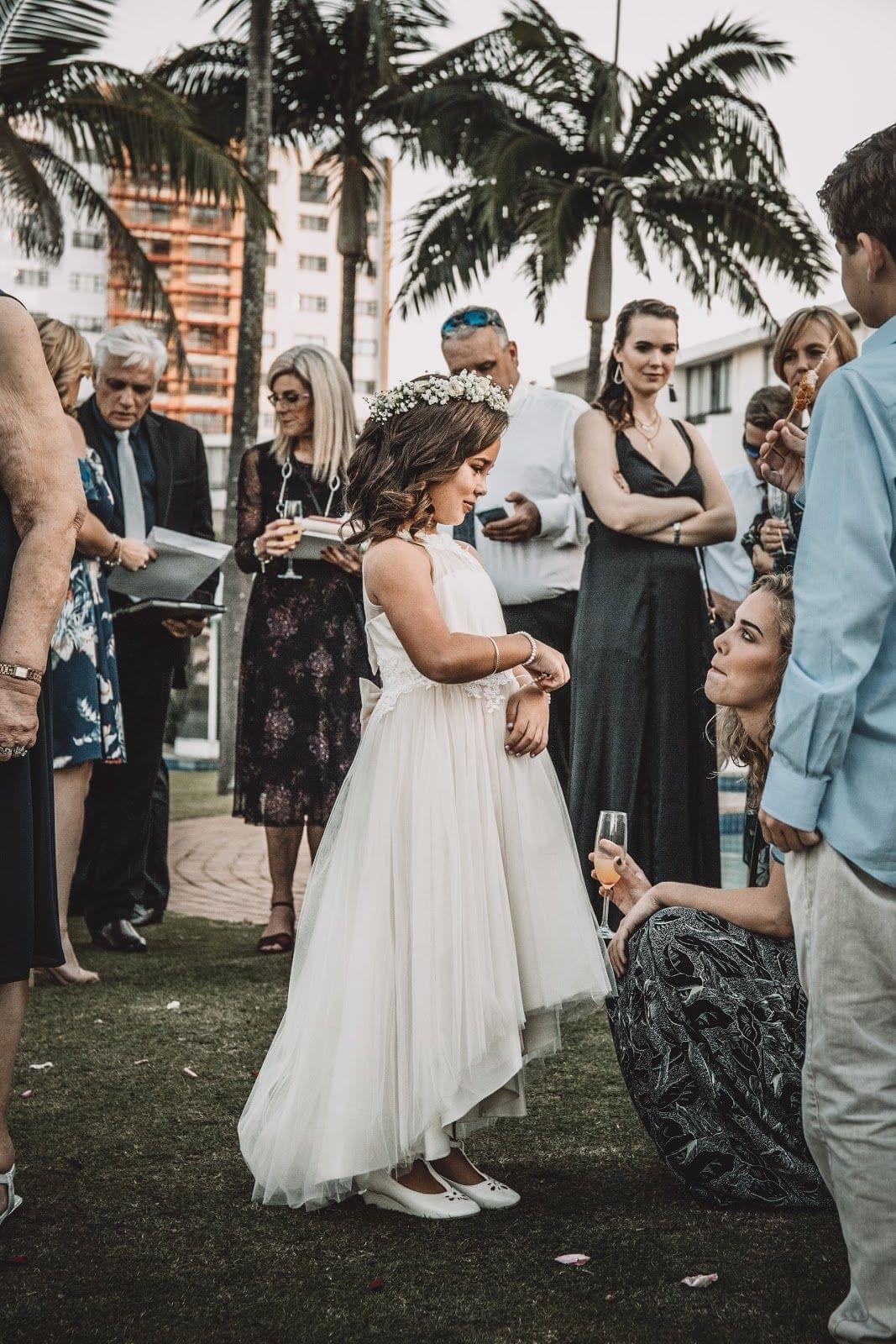 Bridal Party Dresses for the guest of the Wedding
Bridesmaid Dresses 
When picking out bridesmaid's dresses, the same recommendation of reflecting the wedding's tone applies. The color of the bridesmaids' dresses can tie everything together for your wedding's look. A trend in recent years is to set some parameters and then let the bridesmaids choose their dresses. This lends itself to another current trend: choosing bridesmaids' dresses that mix well but don't match exactly. For example, a bride chooses a specific color or shade and the bridesmaids use that as a guide for their dress selections. The bridal party can still enjoy a fun group shopping trip and pick out their dresses together. If you envision your bridal party in matching dresses, then that's the right choice for you. In this case, brides typically choose a seasonal color. However, some colors work at any time of the year. A fun trend in bridesmaids' dresses isn't coloring at all but rather prints. A delicate floral print is a gorgeous choice for an outdoor summer wedding. Prints are a way to add some fashionable flair to your bridal party's attire.
Bridesmaid Collections
Mother of the Bride
Seasonality and wedding style applies to the mother of the bride's dress choices as well. Ideally, selecting the dress your mother will wear is a collaborative effort. However, the best mother of the bride's dress is the one she feels attractive and comfortable wearing. A lot has changed with mother of the bride dresses. First, other than avoiding white, there are no hard and fast rules for color choices. Unless it's the bride's preference, there is no need for the dress to match the bridesmaids' or that of the groom's mother. It's best for the mother of the bride's dress to blend with the overall color scheme. Mother of the bride dresses are also becoming less matronly. Overall, though, it depends on the mother's individual style. It's a memorable day for mom as well, so choosing a dress that she loves is a good guideline.
MOB Collections
Flower Girl Dresses
Flower girls are part of the bridal party, so their dress needs to reflect a look that blends. Selecting fabrics, dress shapes, and colors similar to the rest of the party presents a cohesive look for photos. Including the mother of the flower girl in the selection is a thoughtful consideration. This is especially important if her parents are paying for the dress, as is being conscious of budgets. A dress that the flower girl is comfortable wearing is another nice consideration. It's a fun day for her, but usually a long one as well. About Dress 2 Impress Our selection of wedding dresses at Dress 2 Impress is extensive. So is our collection of bridesmaids, mother of the bride, and flower girl dresses. Inventory is updated daily as we stay current with the latest bridal fashion trends. Our team of professionals enjoys working with brides in their dress selection process. We strive to help you find dresses that let your personality shine through. Dress 2 Impress is conveniently located in Linwood, New Jersey. Contact us to schedule an appointment to find your dream wedding dress!
Flower Girl Collections